The trial for former Hillary Clinton campaign lawyer Michael Sussmann began today as Special Counsel John Durham was filmed arriving at the courtroom.
Sussman's trial is the first to be heard as Durham's yearslong investigation into the origins of the Trump-Russia probe finally lands in court.
Fox News reported that Sussmann has pleaded not guilty to charges of making a false statement as the indictment came in Sept. 2021, just two days before the statute of limitations would have ran out.
The trial was set to begin at 9 a.m. in U.S. District Court for the District of Columbia with jury selection and U.S. District Court Judge Christopher Cooper presiding, according to Fox News.
In a clip that was also taken from the most watched cable news network, Durham can be seen exiting a vehicle and heading into the courtroom.
Durham appeared to briefly look at the camera but headed straight for the door without making a statement.
Twitter user "Suzy" shared the clip in a tweet and said, "Something we don't see very often… John Durham out and about."
Something we don't see very often…

John Durham out and about 👊 pic.twitter.com/rfK4hhoN42

— Suzy (@Suzy_NotSuzy) May 16, 2022
The allegation against Sussmann is that he wasn't being truthful told FBI General Counsel James Baker in Sept. 2016, which was less than two months before the 2016 presidential election, that he was not doing work "for any client" when Sussman requested and attended a meeting where he presented "purported data and 'white papers' that allegedly demonstrated a covert communications channel" between the Trump Organization and Alfa Bank, which has ties to the Kremlin.
"Falsely stating to the general counsel that he was not providing the allegations to the FBI on behalf of any client," is the allegation.
In a filing in the weeks leading up to the trial, Durham said "the night before the defendant met with the general counsel, the defendant conveyed the same lie in writing and sent the following text message to the general counsel's personal cellphone."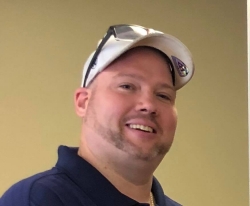 Latest posts by David Caron
(see all)