Gun control activist David Hogg made a curious recommendation today, one that is sure to make those who want an immigration moratorium happy.
In a tweet, Hogg suggested that "Non-Americans should not come here until our country does some thing about gun safety."
"Your kids are not safe here and neither are you," Hogg insisted.
Hogg added, "Please request that your government put out a travel advisory to your citizens telling them it is not safe for citizens to visit the US."
"Catturd" replied with a chart that showed the U.S. wasn't in the top 10 countries with the highest rates of gun homicides in 2019.
"Remember – liberalism is all about special feelings and emotions – with absolutely zero facts," "Catturd" lamented.
Remember – liberalism is all about special feelings and emotions – with absolutely zero facts. pic.twitter.com/O915noJMTm

— Catturd ™ (@catturd2) June 2, 2022
Mike Cernovich told Hogg, "Great points. Time to build a wall – to protect others from this country."
Great points. Time to build a wall – to protect others from this country.

— Cernovich (@Cernovich) June 2, 2022
After issuing a "PSA" not to listen to the tweet, Political scientist Ian Bremmer explained, "U.S. murder & violent crime rates way down compared to 90s/00s, immigrants all over the world still desperately trying to get to the U.S."
Bremmer also pointed out that "'warning' non-Americans in this way is wrong headed and irresponsible."
us murder & violent crime rates way down compared to 90s/00s

immigrants all over the world still desperately trying to get to the us

"warning" non-americans in this way is wrong headed and irresponsible

— ian bremmer (@ianbremmer) June 2, 2022
Hogg appeared on tonight's MSNBC "The Reid Out" show along with U.S. House Rep Eric Swalwell (D-CA) to advertise the June 11 "March for Our Lives."
.@davidhogg111: "Gun owners are fed up. Republicans are fed up. People need to march with us on June 11th. If you're interested in marching with us as Americans united for *peace*… in over 450 marches across the country… text MARCH to 954-954." #TheReidOut pic.twitter.com/y7eEdSrUbG

— The ReidOut (@thereidout) June 2, 2022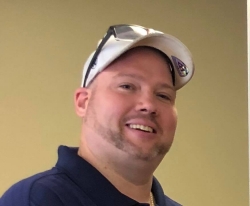 Latest posts by David Caron
(see all)