During a speech on Friday, Joe Biden made what many would consider an outlandish statement as he boasted about the "economic recovery."
The clip shared by Breaking911 was badly ratioed as many gave their opinion of the "economic recovery" under his leadership.
Biden made the statements at the end of his speech, prior to taking questions. The remarks were made after the May jobs report was released, which showed good numbers.
As transcribed by the White House:
The bottom line is this: Part of the reason I ran for President is because I was tired of trickle-down economics. It doesn't work.
My plans have produced the strongest, fastest, most widespread economic recovery America has ever experienced, with record jobs, a new record of small businesses, and wages rising.
It's the foundation for an economy that works for working families.
And because of that foundation, we're better positioned than any country in the world to overcome the global inflation that we're seeing and reach a new chapter of stable and steady growth.
So, let's come together and focus on what's the matter — on what matters. Let's build on the extraordinary progress we've made. And let's continue to build this economy from the bottom up and the middle out. When that happens, everybody does well, including the very wealthy.
Conservative Twitter user Mike Mason quipped in a reply, "This dude is out of his skull."
This dude is out of his skull.

— Mike Mason (@MikeMason830) June 6, 2022
Breitbart's Wendell Husebo reported that the, "Most important issues to voters: Economy 51% Inflation 51% Gas prices 48% Gun violence 43% Abortion 41% Crime 36% Immigration 32% Climate change 25% Ukrainian war 22% Chinese coronavirus 20% Biden's approval economy (37%) inflation (28%) gas (27%) guns (37%) — ABC News 6/5/22"
Most important issues to voters:

Economy 51%
Inflation 51%
Gas prices 48%
Gun violence 43%
Abortion 41%
Crime 36%
Immigration 32%
Climate change 25%
Ukrainian war 22%
Chinese coronavirus 20%

Biden's approval economy (37%) inflation (28%) gas (27%) guns (37%)

— ABC News 6/5/22

— Wendell Husebø (@WendellHusebo) June 6, 2022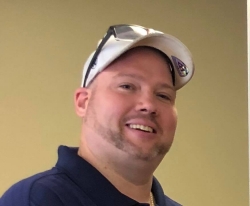 Latest posts by David Caron
(see all)