John Hinckley Jr. announced he was going to be traveling across the country doing a "Redemption Tour" this summer playing music. Hinckley perpetrated an assassination attempt on former president Ronald Reagan in 1981.
CEO of TicketNetwork Don Vaccaro, released a statement today, announcing that the resale platform would not be allowing listings for the tour on their marketplace. In the statement that can be seen below Vaccaro states:
The decision to stay away from any events involving this individual is not motivated by political ideals – I'm not a Republican. It is an issue of integrity and steering clear of supporting an individual who is trading on notoriety gained through an atrocious act. Beyond this, we feel allowing these events on our marketplace or supported by our business operations introduces several other issues for clients and venues alike:
A public performance of this nature creates a substantial security risk for patrons and staff alike at the venue.
If an individual can draw a crowd based only on fame achieved through atrocity, it could inspire others to do the same.
Given existing anti-police sentiment in this country, providing a platform for someone so publicly associated with a direct attack on law enforcement could help further marginalize and demoralize those who protect and serve.
Hinckley injured the president as well as a police officer and a secret service agent. Hinckley also, critically injuring Press Secretary James Brady at the time, who was permanently disabled and died years later from complications from the shooting.
Hinckley was found not guilty by reason of insanity and was committed to institutional psychiatric care at St. Elizabeth's Hospital in Washington. Hinckley was released from the institution in 2016 to live with his mother in Williamsburg, VA. He was allowed to move out of his mother's house in 2018 but had to stay within a 75-mile radius of Williamsburg.
According to History.com, "Hinckley's defense attorneys argued that their client was ill with narcissistic personality disorder, citing medical evidence, and had a pathological obsession with the 1976 film Taxi Driver, in which the main character attempts to assassinate a fictional senator. His lawyers claimed that Hinckley had watched the movie more than a dozen times, was obsessed with the lead actress, Jodie Foster, and had attempted to reenact the events of the film in his own life."
His mother passed away in the summer of 2021. In September of 2021, Hinckley was granted unconditional release meaning there were no more conditions to which he had to adhere to, thus freeing him to tour.
Hinckley's show in Brooklyn, New York has sold out. His show at the Space Ballroom in Hamden, CT was canceled recently after the venue received a large number of complaints. The is close to Yale, where Hinckley stocked actress Jodie Foster who was attending college at the time.
This tour of Hinckley's seems very controversial, it is unclear what else could happen with his upcoming tour.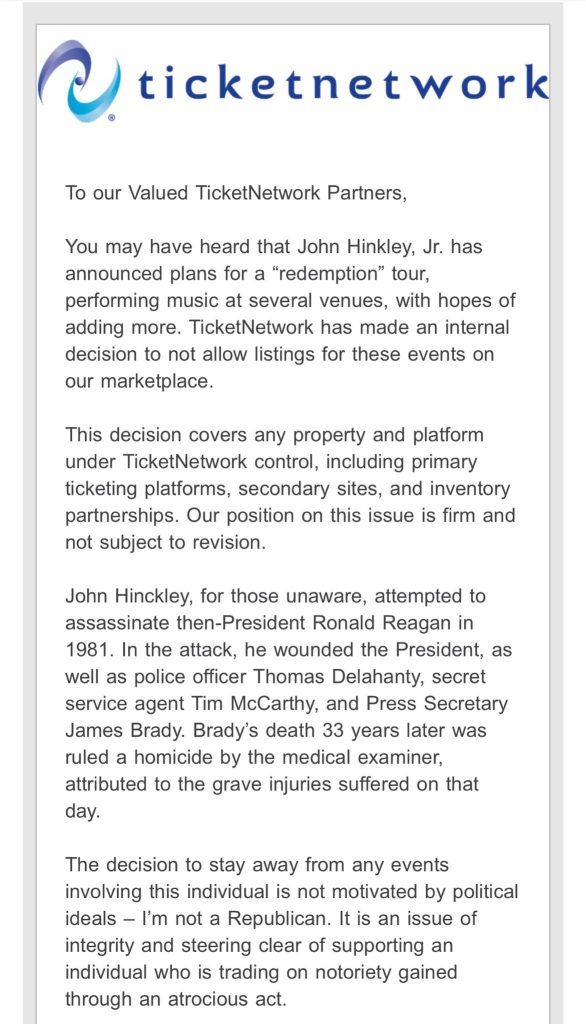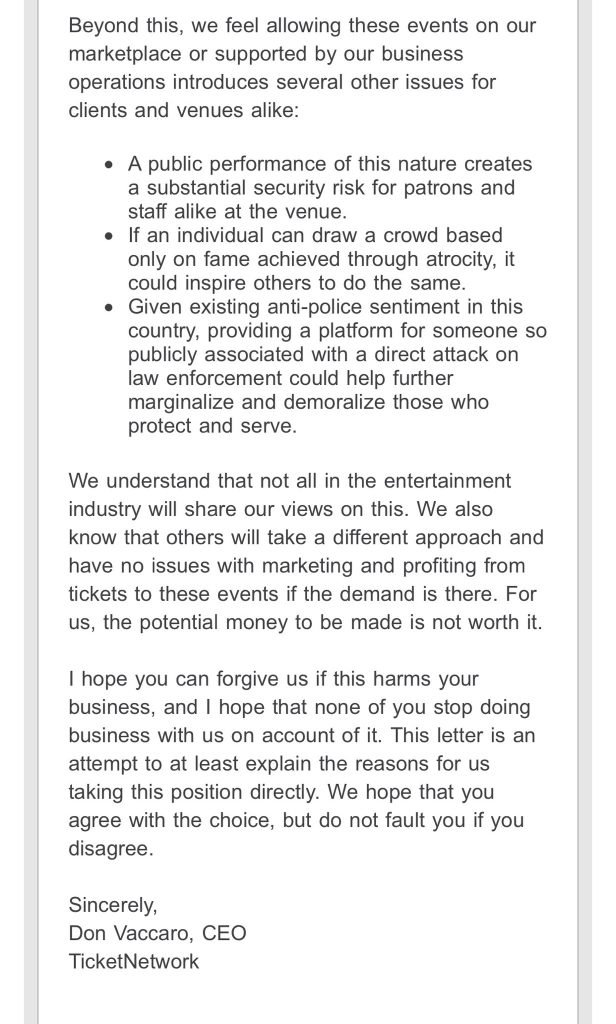 Latest posts by Kay Williamson
(see all)