Department of Homeland Security Secretary Alejandro Mayorkas appeared today on CBS' "Face the Nation" and attempted to deflect blame from the Biden administration after 53 migrants were found dead in a tractor-trailer truck.
When pressed on what occurred, Mayorkas appeared to even blame the migrants for their own demise as he insisted, "We have said repeatedly and we continue to warn people not to take the dangerous journey."
"We saw so tragically in San Antonio, Texas, one of the possible tragic results of that dangerous journey, and so many people don't even make it that far in the hands of exploitative smugglers​," Mayorkas emphasized.
Rather than admit that Biden's border policies have failed, Mayorkas suggested that migrants who are traveling from Central and South America to the US-Mexico border are receiving false information from trafficking cartels before making the journey. ​
Mayorkas noted, "They put their lives, their life savings, in the hands of these exploitative organizations, these criminal organizations that do not care for their lives and only seek to make a profit."

As we previously reported, U.S. House Rep Tim Burchett (R-TN) didn't hold back in a tweet while addressing the mass casualty event.
Burchett reported, "53 people are literally cooked to death in the back of a tractor trailer and the national media has this as the 4th story."
"@POTUS your policy is a failure and so is your border czar @KamalaHarris @VP," Burchett declared.
The Department of Justice announced on Wednesday that Homero Zamorano Jr. was arrested on criminal charges related to his alleged involvement in alien smuggling resulting in death.
Zamorano was arrested and charged along with Christian Martinez, Juan Claudio D'Luna-Mendez, and Juan Francisco D'Luna-Bilbao
Both Zamorano and Martinez face the possibility of life in prison or the death penalty, while both D'Luna-Mendez and D'Luna-Bilbao, who are Mexican citizens face 10 years behind bars.
Zamorano was reportedly driving the truck and was "observed hiding in the brush after attempting to abscond."
The case against Zamorano appears to be pretty solid as a video taken at a federal immigration checkpoint near Laredo had recorded the driver of the truck as wearing a black striped shirt and a hat.
Mayorkas said of the ability for the truck to get across the border, "They have evolved over the last 30 years. ​… Now, they are very sophisticated using technology, and they're extraordinarily organized transnational criminal enterprises. And we are much more sophisticated using technology and personnel 24 hours a day."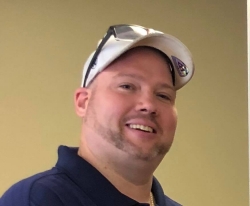 Latest posts by David Caron
(see all)