As we previously reported, Senate Majority Leader Mitch McConnell (R-KY) announced that Joe Biden is president-elect and declared him the winner. The young conservative figure, Nicholas Sandmann is speaking out. He is the kid who was on the front page of many news stations in 2018 when at the "March for Life Rally" in D.C. where he was called a racist for smirking in front of a Native American banging his drum in front of him. 
Mitch McConnell declared Biden the winner on the Senate floor this morning which stirred up some anger with people on the right. 
Sen. Mitch McConnell: "The Electoral College has spoken — so today I want to congratulate President-elect Joe Biden." pic.twitter.com/2IWBdsnlDD

— The Hill (@thehill) December 15, 2020
Sandmann, who worked for Mitch McConnel's campaign this year, defended him via Twitter this afternoon. 
Senator McConnell is a great American

— Nicholas Sandmann (@N1ckSandmann) December 15, 2020
Some attacked him for that statement saying that McConnell is a "RINO".
How can you be a Gen Z white guy and look at everything happening around you (especially Nick Sandmann) and still not get it?

— Nicholas J. Fuentes (@NickJFuentes) December 15, 2020
He defended his statement again by mentioning the number of conservative judges McConnell has confirmed.
Republicans in Name Only don't confirm 300 CONSERVATIVE judges

— Nicholas Sandmann (@N1ckSandmann) December 15, 2020
Lin Wood was Nicholas' Attorney when he was being attacked by the media after the incident in D.C. and helped him cash in 275 million dollars from CNN. Wood has also been on the front lines of President Trump's battle to prove what he believes is election fraud and improprieties.
It is unclear why Sandmann felt the need to make this statement or maybe he is looking for an opportunity to work with the establishment as he gets older. The once loved young conservative is now being bashed for defending the establishment. He even spoke at Trump's RNC this year where he attacked the liberal media. 
It is interesting to see Sandmann make a lot of money off smirking with a MAGA hat on and then betray the president in the eyes of some. Some could argue he is just a young opportunist who goes whatever way the wind blows. Or perhaps he is just misguided or out of touch with the political winds.
Stay tuned to Media Right News for more.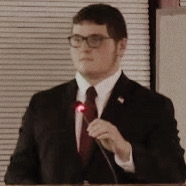 Latest posts by Joshua Troiano
(see all)