This Tuesday, August 18th, the final votes will be cast in one the most hotly contested congressional primaries in Florida, the 13th. George Buck, veteran and former firefighter seeks to land the nomination to defeat the Democrat in November, Charlie Crist. He has noted that he did NOT in fact get endorsed by the Tampa Bay Times, which usually endorses the more liberal-leaning candidates in any race according to many. Buck sees this as a badge of honor.
He has positioned himself as the most conservative, most Trump-like, and an 'America First' candidate. George has called for no foreign-born people in congress, which would of course exclude one of his opponents, Amanda Makki.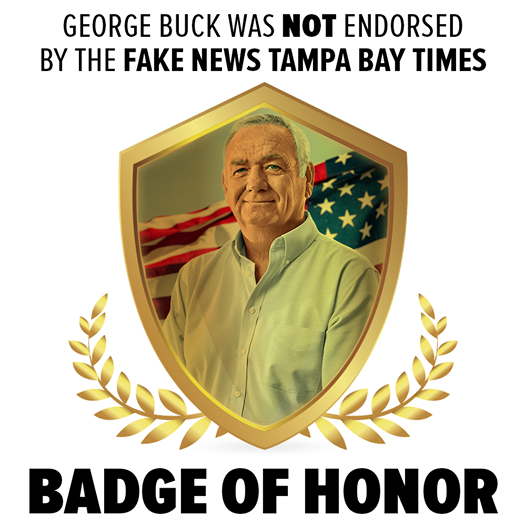 Two of Buck's primary opponents, lobbyist Amanda Makki and Anna Paulina Luna, who endorsed amnesty for DACA recipients, have been duking it out with each other while Buck's recognition in the Trump-supporting community has risen. Recently Makki sent out a mailer slamming Luna for having changed her name and having used 3 total names in recent history. Luna then slammed Makki for changing her name to sound more 'American' as Makki is Iranian.
Meanwhile, Buck is one of the few politicians who has sounded off about the tragic death of Cannon Hinnant in North Carolina a few days ago, amidst a media narrative blackout. Buck knows who his base is, and brags that 'his name hasn't changed either.' Buck also has controversially called for 'execution' of the man who killed Hinnant, after the proper court proceedings of course.
Guys and gals, vote George Buck. Two syllables. Easy to remember. Been my name my entire life! ????????????????????????

— George Buck Jr (@gbuck_jr) August 13, 2020
The animal who killed the sweet 5-year-old boy, Cannon Hinnant, should be publicly executed for all to see, after a speedy trial and due process, of course. Cannon Hinnant would be alive today if he wasn't killed in cold blood by this savage.https://t.co/DN1MtNnTs9

— George Buck Jr (@gbuck_jr) August 14, 2020
Buck's final message to the voters:
"Hello everyone. I ask for your vote if you vote today, tomorrow, or Tuesday. I love this country and I will defeat Charlie Crist. I support President Trump and I will call out the radical left. I will go after the traitors to this country who hate us and want to destroy our nation. I will listen to you and will take care of our great veterans. I support our gun rights, am 100% pro-life, and will stop illegal immigration. Thank you."

Some votes have already come in by mail, and the rest will be taken next Tuesday. Time will tell what the district decides in this historical campaign election cycle. Some of his endorsements and grades can be seen below, including NumbersUSA, an immigration hardline group, Vets For Trump, and Florida Right to Life:
Latest posts by Ian MacDonald
(see all)