We reported on Saturday that Capitol Police appeared to accidentally unmask and armed undercover agent and remove him from a sketchy rally that took place in Washington D.C.
A spokesman for the U.S. attorney's office in Washington said yesterday that prosecutors were "not moving forward with charges" but did not provide additional information about the decision.
The 27-year-old New Jersey man is an officer with U.S. Customs and Border Protection and according to two law enforcement officials, was not at the rally in any official capacity. 
After people in the crowd reported seeing him with a handgun and notified nearby officers, he was arrested for illegally possessing a gun on the grounds of the Capitol.
The Associated Press described his arrest and presence at the event as a "surprise" because the rally was billed as an event to support those who are being held from the Jan. 6 rally.
Many questioned the claim that the man wasn't at the rally "in any official capacity" including conservative media pundit Paul Joseph Watson.
"Ahahahahahahaha. Yeah, right," he said of the claim.
The federal agent "was not at the rally in any official capacity."

Ahahahahahahaha. Yeah, right.https://t.co/KvocrXUBfA

— Paul Joseph Watson (@PrisonPlanet) September 20, 2021
Previously, we described journalist Ford Fischer's reporting on the incident:
Fischer reported, "Police surround masked man reportedly armed with a firearm. He tells them where the gun is, and they pull out his badge. He's undercover law enforcement. Without disarming or handcuffing him, police extract him from the event."
"Are you undercover?" the officers asked the masked man, who gave them a badge. I guess not anymore," Fischer added in a follow-up tweet.
Fischer added, "The masked man claimed 'I'm just here' when asked if he's undercover as he presented a badge to justify the gun he was apparently wearing, before being pulled out. Other than undercover, he could have hypothetically been simply masked & off duty with his badge and gun concealed."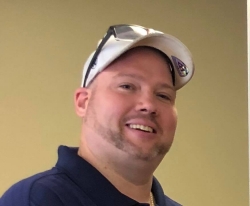 Latest posts by David Caron
(see all)