Meghan McCain was recently triggered by Arizona's real "Mavericks", State Senator Wendy Rogers and Gubernatorial candidate Kari Lake.
The situation began when Liz Willis announced on Tuesday that she was, "Headed to Arizona for another @KariLake rally with @RSBNetwork! Tune in tomorrow for LIVE coverage. #SaveArizona."
The rally was held at a live country dance bar, the Maverick, in Tucson, Arizona.
In a now apparently deleted quote tweet, McCain asked, "If Kari Lake hates my dad so much, why did the b*tch steal my dad's nickname?"
In a tweet yesterday, Rogers referenced the event that Lake held at the Maverick.
"If I were @KariLake I would just start using the term Maverick even though it was the name of the venue. #TopGun II @MeghanMcCain," Rogers declared in the tweet.
Lake replied, "I'd hate to hurt Meg's feelings. Someone called me "MAGA QUEEN" While I love that, it probably belongs to Melania!"
McCain initially responded to Lake in a quote tweet where she told her, "You hags deserve each other."
In a quote tweet of Rogers, McCain then said, "Well this is the kind of hard hitting politics everyone expects from you and Kari… Both of you dried up qanon husks stay the hell away from me."
Rogers quote tweeted McCain and exclaimed, "Yikes!"
Yikes! https://t.co/yq0GcPuPlF

— Wendy Rogers (@WendyRogersAZ) July 14, 2022
In a reply to McCain's "hags" insult, Lake said, "First you call me a b**ch, now you call me a hag? You're really doing wonders for your family's image, Meg. Poor Meg, too terribly sad because her book launch was such a fail: Boost her broken ego by being one of the very few to buy it: Bad Republican."
Lake then fired back in a tweet where she shared screenshots of the apparently now deleted quote tweet by McCain and the tweet where she called Lake and Rogers hags.
"Within 24 hours, @MeghanMcCain publicly calls @KariLake a "b*tch" and a "hag" All the while, a @HillaryClinton Super PAC launches MILLIONS against @KariLake. Make sense yet? The Establishment on BOTH SIDES is terrified," Lake explained.
McCain responded quickly with a quote tweet where she said, "Yeah and I'd do it again – you absolute side show freak. Wanna keep going?"
In another quote tweet, McCain added, "Also save the pious bs – you invoke my dead father for clicks and qanon clout. You maxed out to Obama, twice and are a fake snake oil salesman acting out a role. No conservative on the planet would be dumb enough to believe you're authentic FAKE LAKE."
McCain then responded to Lake's reply to her "hags" insult in a quote tweet where she told her, "I will call you anything you want – keep talking about my dead father, lunatic. I have HAD IT. This is what Arizona wants in a governor? Someone fighting with a former beloved senators family members on social media for clicks? The state has real problems."
I will call you anything you want – keep talking about my dead father, lunatic.

I have HAD IT.

This is what Arizona wants in a governor? Someone fighting with a former beloved senators family members on social media for clicks? The state has real problems. https://t.co/XYSGHoW3y5

— Meghan McCain (@MeghanMcCain) July 14, 2022
In a tweet today, Lake announced, "It's a new era in politics. I am part of the New Right, a conservative populist. My goal for Arizona is to expand freedoms for EVERYONE, regardless of race, political background, or whether they hate me or not. I don't hold grudges. I keep promises. All I ask for is your vote."
It's a new era in politics.

I am part of the New Right, a conservative populist.

My goal for Arizona is to expand freedoms for EVERYONE, regardless of race, political background, or whether they hate me or not.

I don't hold grudges. I keep promises.

All I ask for is your vote

— Kari Lake for AZ Governor (@KariLake) July 14, 2022
Lake also drew McCain's ire back at the beginning of June when she said at her 1 Year Campaign Launch Anniversary Party, "It's time to replace that dirty McCain Swamp with, maybe, I don't know… a Lake?"
McCain quote tweeted a clip that Lake's "War Room" had shared of it at the time and claimed, "What trash this woman is."
Lake took the high road at the time as well and responded, "Thanks for sharing our video, Meg!"
Thanks for sharing our video, Meg!

— Kari Lake for AZ Governor (@KariLake) June 6, 2022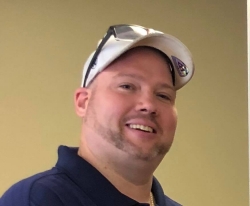 Latest posts by David Caron
(see all)