"Squad" Member House Rep Ayanna Pressley is leading a call to require the next Coronavirus relief package require federal authorities to collect and report race-specific data.
The Congressional Black Caucus, of which she is a member, sent a letter to Director Robert Redfield at the CDC on Tuesday.
The letter criticized US history in the first sentence saying "communities of color continue to disproportionately suffer health inequities due to the history of racism and oppression in the United States."
The request was then made, "as chair of the Congressional Black Caucus and Congressional Black Caucus Health Braintrust, we respectfully request that the Centers for Disease Control and Prevention (CDC) publicly report all available racial and ethnic demographic data related to COVID-19 testing, hospitalizations, and mortality."
It continued, "last week, several members of the Congressional Black Caucus sent a bicameral letter to HHS urging the collection and public reporting of racial data in COVID-19 outcomes. HHS' lack of willingness to collect and publicly disclose racial data has led some public health departments to fill the gap."
Pressley, in a previously ignored request, along with Senators Elizabeth Warren, Cory Booker, and Kamala Harris, called on the Department of Health and Human Services  "to monitor and address racial disparities."
In another part of the letter, they again criticized history by saying, "although everyone is at risk, the history of structural racism, income inequality, and lack of resources in communities of color make these communities especially vulnerable to COVID-19."
The letter finishes with a request to prioritize "data collection" and "equitable access". "As coronavirus continues to spread, we urge you to prioritize the collection and reporting of this vital public health data and undertake all efforts to ensure that every person in America has equitable access to COVID-19 testing and treatment regardless of their race or ethnic background."
Warren tweeted her support after Pressley appeared on MSNBC to talk about the demand.
My friend Ayanna Pressley is absolutely right. The HHS needs to collect and release COVID-19 racial data from our states and address disparities in communities of color immediately.
My friend @RepPressley is absolutely right. @HHSGov needs to collect and release COVID-19 racial data from our states and address disparities in communities of color immediately. pic.twitter.com/klVTbm4Ahg

— Elizabeth Warren (@SenWarren) April 7, 2020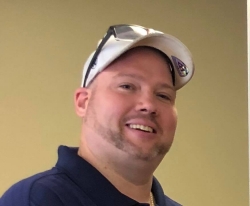 Latest posts by David Caron
(see all)