The Arizona Senate issued two subpoenas yesterday in regards to the 2020 presidential election audit currently underway in Maricopa County.
One was to the Maricopa Board of Supervisors and one to Dominion Voting Systems, and asked for the routers or "virtual images of the same" as well as the public IP of each router as part of a broader request for election-related materials.
Republican Arizona State Sen Wendy Rogers shared the documents in a tweet and warned the recipients, "I would not blow these off!"
Trump supporter Steve Ferguson was one of many respondents to Rogers and urged, "These need to be enforced by any means necessary."
These need to be enforced by any means necessary

— Steve Ferguson (@lsferguson) July 27, 2021
The Washington Examiner reported:
Bill Gates, a Republican member of the Maricopa County Board of Supervisors, revealed the development during an appearance Monday night on CNN.
"Right before I came on here, the board of supervisors received another subpoena from the state Senate ordering us to turn over the routers, in addition to some other information. And they threaten us in these papers that if we do not turn those over by Aug. 2 — so that's next Monday — then we could be held in contempt," he said.
The requests come after former President Trump appeared at an event in Tucson, Arizona on Saturday and spoke about the routers and their necessity to complete the audit.
As we previously reported:
At the Turning Point USA "Rally to Protect Our Elections" in Tucson, Arizona, former President Trump zeroed in on the Maricopa County 2020 presidential election audit where the county commissioners have refused to provide all of the requested materials.
It was reported in May that the county refused to provide its routers, saying it would create a security risk and they claim that they do not use the internet or routers to transfer election data during elections.
Trump said about the situation, "The county has for whatever reason also refused to produce the network routers."
"'We want the routers, Sonni [Borrelli],' 'Wendy [Rogers], we gotta get those routers please, the routers' 'Come on Kelly [Townsend], we can get those routers,'" Trump urged.
Trump then declared, "You know what, we are so beyond the routers, there's so many fraudulent votes without those routers, but if you got those routers, what that will show.
"They don't want to give up the routers, they don't want to give them, they are fighting like hell. Why are these commissioners fighting not to give the routers?" Trump wondered
Trump added, "How simple could it be, that will tell the truth. What are they trying to hide?"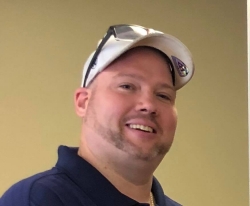 Latest posts by David Caron
(see all)