Well, we wish the best to Senator Bernie Sanders with his health, and although he is still in the presidential primary race, this isn't a good sign. Lately, Bernie has missed a lot of the headlines that other Democratic presidential primary candidates have enjoyed, for better or for worse. Now he's in the news for a reason nobody would want.
During a campaign event yesterday, Sanders experienced some chest discomfort, and was found to have a blockage in one artery and had two stents inserted. ABC News Reports:
"During a campaign event yesterday evening, Sen. Sanders experienced some chest discomfort. Following medical evaluation and testing he was found to have a blockage in one artery and two stents were successfully inserted. Sen. Sanders is conversing and in good spirits. He will be resting up over the next few days," said Sanders' senior adviser Jeff Weaver on Wednesday in a statement. "We are canceling his events and appearances until further notice, and we will continue to provide appropriate updates."
Senator Sanders, who is 78, would be 79 at the time of his election if he were to somehow be elected President, putting him at a ripe age of 87 if he managed two terms. Although quite possible, this raises many potential challenges, as the average life expectancy of men in the US is currently 76.
Wishing you a speedy recovery, @BernieSanders. You are a warrior, and we look forward to seeing you again on the campaign trail soon. pic.twitter.com/AQcyxTw3yi

— BoldProgressives.org (@BoldProgressive) October 2, 2019
Currently, Bernie sits at a solid third place in the polls for the 2020 Democratic presidential primaries. Biden is clinging to number one and Warren is on his tail. This is according to the latest average as per the Real Clear Politics poll that can be seen below. If you click the image it will take you to the current poll. It remains to be seen if this health scare will help or hurt Senator Sanders in the polls but we will know soon enough.
SEE POLL BELOW: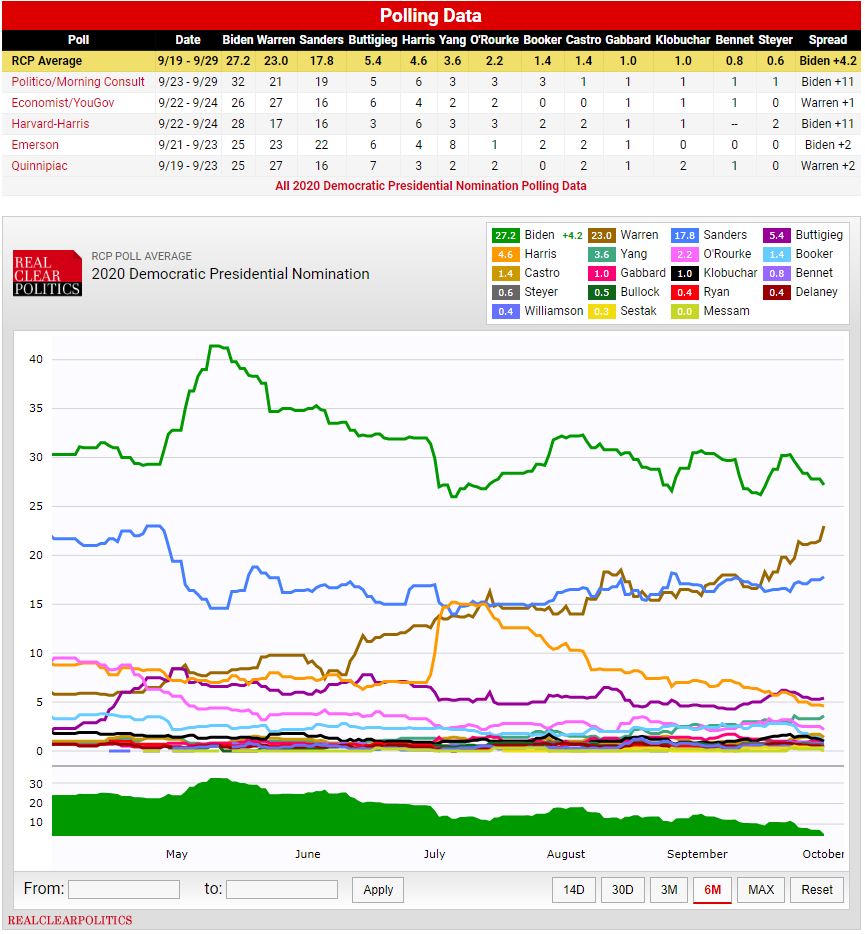 Latest posts by Ian MacDonald
(see all)