Presumptive Democrat nominee Joe Biden attempted to hold a "virtual rally" today for the voters of Florida. To say the least, there were internet issues.
The "virtual rally" was set in Tampa, except Biden, who was presumably still at his home in Delaware, and "sort of" streamed live on YouTube. It was beset by technological failures as speakers, including U.S. Reps. Charlie Crist, Kathy Castor, and State Sen. Janet Cruz, appeared pixelated.
The Tampa Bay Times mocked the feed by saying that it was "visibly delayed as if they were transmitting from Afghanistan, not Tampa Bay." At one point, after Christ spoke, the stream cut to black with no audio for several minutes.
Crist is facing a strong challenge from multiple Republican challengers including Pro-Trump candidate George Buck who challenged him last election but looks to overtake him this time with a larger war chest.
The Times gave a play by play of Biden's entrance into the video:
Finally, 40 minutes into the rally, Biden was introduced. And what an entrance.
A full-seven seconds after his introduction, Biden appeared, not moving. As he leaned against a wall, Biden sported his trademark aviators.
He then walked up the camera, still wearing the shades. It sounded like he said "Just me?" as he looked off camera. Next, he walked up closer. "Now?"
Plucking off his glasses, Biden then addressed the "crowd:"
"Thanks so much for tuning in."
Even Biden seemed to acknowledge the absurdity of a rally "in" a place, the internet, that has no location.
"I wish we could have done this together and it had gone a little more smoothly," Biden said, looking into the camera. "But, ha, I'm grateful that we're able to connect virtually."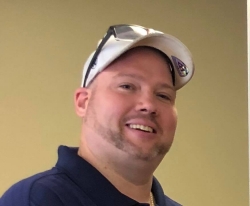 Latest posts by David Caron
(see all)