On Saturday night, YouTube star Jake Paul, who is white, knocked out former NBA player Nate Robinson, who is black, in the undercard of a Pay-Per-View boxing event that ended up getting more attention than the main event.
Many on Twitter were quick to make it a racial situation, with black rappers and athletes challenging Paul over social media to seemingly avenge the on the basis of race.
Anti-Trump comedian Kathy Griffin had hyped up the fight on her Twitter account and then mentioned the "memes" that "Black Twitter" created to make fun of Robinson following the vicious knockout.
"Black Twitter is p*ssed at Nate Robinson. The memes are um, rough," Griffin said in a tweet.
"Black Twitter" apparently didn't find Griffin's attempt at woke input very necessary. One top response to her tweet encouraged her to "Get back to the white side of Twitter asap."
Get back to the white side of Twitter asap pic.twitter.com/w4lZgSLFuc

— FACTUAL OPINIONS OF DRED (@FACTUALOPINION0) November 29, 2020
Another top reply read, "With all due respect…ima need ya to sit this out"
With all due respect…ima need ya to sit this out pic.twitter.com/nM1PK2wEvl

— 🎄Ho Ho Ho-Drated/X-Mas-Factor🎄 (@DashingSoulJay) November 29, 2020
"Lex" shared a racially-charged meme of Nation of Islam leader and anti-Semite Louis Farrakhan pointing that asked, "Is that a cracker in black people's business?"
November 29, 2020
Five minutes after that Griffin made that tweet and before the mob descended on it, she added another tweet in an attempt perhaps to gain sympathy for Robinson as she said, "I don't want Nate Robinson to check his mentions tonight."
A little over an hour later and after the responses to Griffin started pouring in, one user told Griffin, "You probably shouldn't check yours either. 'Black Twitter' is roasting you."
You probably shouldn't check yours either. "Black Twitter" is roasting you.

— Corey Atherley (@Corey_Atherley) November 29, 2020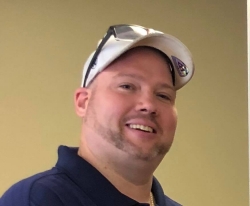 Latest posts by David Caron
(see all)