With Joe Biden being formally nominated as the nominee for the Democratic presidential ticket and his selection of Kamala Harris as his running mate, there have been many reactions across the country by different politicians.
Virginia's 5th District Congressional District Republican nominee Bob Good said in a Facebook post that the Biden/Harris combination is "easily the most extreme and radical Democratic presidential ticket in U.S. history.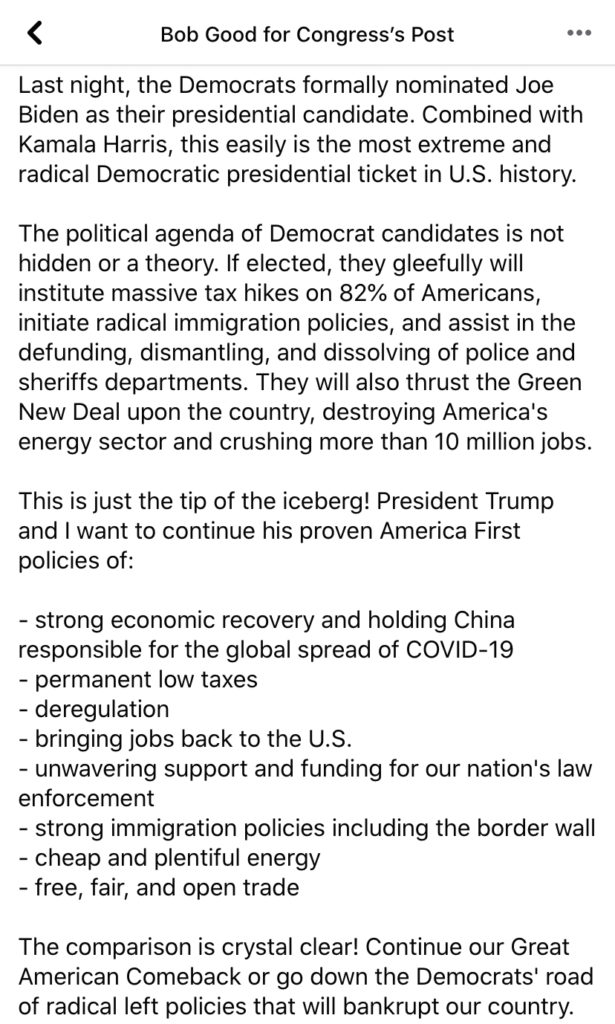 He expounded further by saying they will be the most radical on many issues like taxes, immigration, police funding, and climate policy.
"The political agenda of Democrat candidates is not hidden or a theory. If elected, they gleefully will institute massive tax hikes on 82% of Americans, initiate radical immigration policies, and assist in the defunding, dismantling, and dissolving of police and sheriffs departments. They will also thrust the Green New Deal upon the country, destroying America's energy sector and crushing more than 10 million jobs," he said.
He believes that those plans are "just the tip of the iceberg!" If he elected, he said that "President Trump and I want to continue his proven America First policies of: strong economic recovery and holding China responsible for the global spread of COVID-19, permanent low taxes, deregulation, bringing jobs back to the U.S., unwavering support and funding for our nation's law enforcement, strong immigration policies including the border wall, cheap and plentiful energy, free, fair, and open trade."
Good's opponent in the 5th district race is Democrat Dr. Cameron Webb. Dr. Webb was endorsed by former President Barack Obama, who also endorsed the Biden/Harris ticket and spoke at the Democratic National Convention.
Proud to be in President @BarackObama's first wave of 2020 endorsements. We have a lot of work to do to bring home a victory in November, but this election is too important for anyone to sit it out. Pitch in today at https://t.co/TcBMlCDAFB https://t.co/HqTSN7Dhtx

— Dr. Cameron Webb (@DrCameronWebb) August 3, 2020
As for the presidential race, Dr. Webb said he "couldn't be happier about the top of our ticket…& this trending hashtag of #BidenHarris2020. I was honored that Sen. Harris was among the 1st leaders of the Democratic Party to support my campaign. This fall, I'll be doing everything I can to help make sure she's our next VP!"
I couldn't be happier about the top of our ticket…& this trending hashtag of #BidenHarris2020. I was honored that Sen. Harris was among the 1st leaders of the Democratic Party to support my campaign. This fall, I'll be doing everything I can to help make sure she's our next VP!

— Dr. Cameron Webb (@DrCameronWebb) August 12, 2020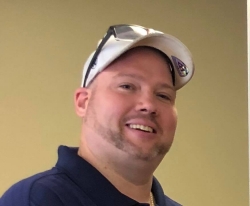 Latest posts by David Caron
(see all)