Yesterday, the defense began presenting it's case in the trial of former Minneapolis police officer Derek Chauvin who stands accused of multiple charges in the death of George Floyd while in his custody, including murder in the second degree.
A use-of-force expert, Barry Brodd, was called to the stand yesterday by Chauvin's attorney Eric Nelson and he said that he felt that Chauvin "was justified, was acting with objective reasonableness, following Minneapolis Police Department policy and current standards of law enforcement," in his interactions with Floyd.
Today, Nelson called a medical expert, Dr. David Fowler, who is the former head of the medical examiner's office in Maryland, to the stand in regards to Floyd's death.
Many media outlets have attempted to discredit Dr. Fowler by reporting that he is currently facing a federal lawsuit for his testimony in a previous, similar case.
Dr. Fowler said he believes that Floyd, due to his underlying heart issues, had a "sudden cardiac arrhythmia" while being restrained and subdued by police.
It has also been reported that Dr. Fowler testified that Floyd's drug use contributed to his demise as well.
Forensic Pathologist Dr David Fowler goes into detail to argue that an enlarged heart (but size, within some accepted standards) and drug use were factors in George Floyd's death.

— Chris Jansing (@ChrisJansing) April 14, 2021
From the USA Today:
Several witnesses for the prosecution previously said Floyd died from low oxygen due to law enforcement restraint. However, the chief medical examiner for Hennepin County who conducted the autopsy told jurors Floyd's heart disease was a contributing cause of his death.
"The law enforcement subdual and neck compression is just more than Mr. Floyd could take by virtue of his heart conditions," Dr. Andrew Baker said last week. 
Where the trial stands: The defense argues Floyd's hypertensive heart disease and ingestion of meth and fentanyl, together with the struggle with police, led him to suffer from heart strain and ultimately die. On Tuesday, the defense called on a former police officer and a retired Hennepin County paramedic who both testified about Floyd's drug-related arrest in 2019 in Minneapolis.
Prosecutors, meanwhile, contend Floyd died due to Chauvin's knee on his neck for more than nine minutes. Over the course of 11 days, prosecutors called 38 witnesses to the stand and played dozens of bystander, surveillance and police body-cam videos.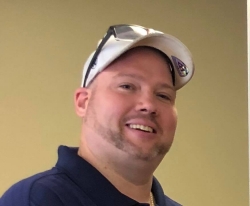 Latest posts by David Caron
(see all)