As more comes to light about the CNN Senior Producer who was arrested on child sex crime charges, it appears that he is also a former writer for Fox News' Greta Van Susteren.
A LinkedIn bio shows that John Griffin was the "Chief News Writer" for "On the Record" with Greta Van Susteren from May 2002-March 2003.
Additionally, Griffin and Van Susteren had a back and forth on an October 2019 tweet where he described himself as her "former writer."
Van Susteren tweeted at the time, "I was just told someone is playing me in the new Fox movie…the actress (Anne Ramsay) never called me…the director never called me…the producers never called me..the writers never called me..would you not think someone would call me to at least try to get it right? Thoughts?"
"My thoughts are, as your former writer AND a former actor… you're a damn complicated person (as are we all). I would want to attach myself to you like GLUE for at least a couple of months!" Griffin replied.
Van Susteren responded, "How about coffee instead of the glue the next time I am in NYC? :)"
"Absolutely!!! I would love that. It's been too long. (Coffee makes for better glue anyway)" Griffin answered.
It is unclear if the two ever got together for coffee, however.
According to the LinkedIn profile, Griffin also was a founding producer of Fox News Radio and spent about eight years at ABC News.
Of course the NYPost would leave out that John Griffin also worked for ABC and on Greta Van Susteren's show. Wasn't so hard to find on his twitter feed if you looked. pic.twitter.com/o6ihyJ7cmB

— Politically Homeless (@KikiAndtheCity) December 12, 2021
Absolutely!!! I would love that. It's been too long. (Coffee makes for better glue anyway)

— John Griffin (@JGriffNYC) October 17, 2019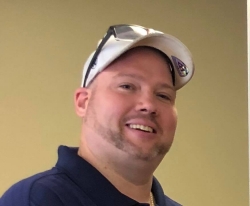 Latest posts by David Caron
(see all)