A last ditch effort from US House Rep Denver Riggleman to avoid a drive through voting convention fell short. The convention will be held at the Tree of Life Ministries in Campbell County, Virginia on June 13th.
From the Bob Good Campaign:
Tonight, the 5th District Committee met by conference call and by a 24 – 10 margin voted down an appeal put forward by the Riggleman campaign to stop the convention from being held at the Tree of Life Church on June 13th. Yes, you read that right. The Riggleman campaign wanted to stop the convention again. The committee processes are complicated and bureaucratic, but there's a recurring theme here. Riggleman wants to stop the convention because he knows that he cannot win.
To be clear, the convention is on and our delegates are anxious to go to Tree of Life Church on June 13th! Victory is in sight and I'm prepared to take this nomination and fight for you against the radical Democrats all the way to November.
Let's not let Riggleman stand in the way any longer. His campaign has harassed you and tried to thwart this convention at every turn. Let's get to the convention on June 13th and win!
Denver Riggleman press release ahead of the vote:
Ahead of the 5th District Committee meeting tonight, the Riggleman Campaign is asking the committee to reject pay for play politics by having members of Bob Good's campaign staff recuse themselves from voting on issues concerning the nomination contest. This comes after hundreds of calls and emails from delegates who are deeply concerned and frustrated with the lack of transparency in the nomination process. The rules of the nomination need to be neutral, transparent, and fair for all the delegates and the candidates. The only way for this to happen is to ensure Bob Good's campaign staff does not have a vote or a proxy vote on matters related to the nomination of their employer.
"Calls and emails have been coming in non-stop since delegates to the convention found out Bob Good is paying committee members to vote a certain way. We are proud to stand up for them and ask for transparency on the committee." said Kurt Lofquist, Campaign Spokesman, "It's hard to explain to delegates why some have to drive 4 hours one way to Bob Good's home county to cast a vote. Delegates understand that votes are being bought on the committee, and they are fed up. We are standing with the delegates of the convention, and asking the committee to reject pay to play politics and embrace ethics and transparency. Tonight, the committee should ask the members of Bob Good's campaign to recuse themselves completely from votes concerning the nomination process. This is just the right thing to do."
From the Roanoke Times:
They clashed during a debate over the radio earlier this month. Good took aim at Riggleman's conservative credentials.
"What does Denver stand for? What conservative Republican issue is he strong on? What can he point to?" Good said during the debate hosted by conservative radio host Rod Schilling. "He's out of step with the base of the party on life, he's out of step on marriage, he's out of step on immigration, he's out of step on health care, on climate, on drug legalization."
Riggleman, who has identified himself as a conservative "with a pretty mean libertarian streak," inflamed social conservatives last year when he officiated a same-sex marriage. A handful of activists censured him, but Riggleman stood by what he did.
Conservative activists have taken issue with his stance on abortion, but Riggleman hasn't shied away from his stance that he believes life begins at the fetal heartbeat, and there should be exceptions for abortions. Good said he is "100% pro-life from conception without exception."
"I'm a bright red biblical and constitutional conservative," Good said.
During the debate, Good rattled off various positions. He wants to repeal the Affordable Care Act, limit the federal government's involvement in education, and reduce the deficit — which has ballooned during the Trump administration. He mentioned that during his time on the Campbell County Board of Supervisors, he supported a resolution asking the state legislature to allow localities to have the authority to regulate transgender people using public bathrooms.
"When I get to Washington, my priorities are going to be to defend Judeo-Christian principles upon which our nation was founded," he said.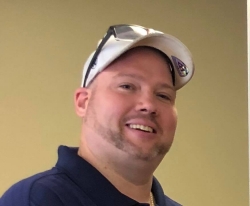 Latest posts by David Caron
(see all)