Liberals are furious after country star Jason Aldean's wife Brittany recently shared photos on her Instagram of herself and their children in anti-Biden clothing.
Brittany Aldean can be seen rocking an "Anti Biden Social Club" t-shirt in one of the photos while standing next to her husband.
The t-shirt is made in the design of the popular streetwear brand, Anti Social Social Club and she credited the merchandise to Instagram account @letmetakeyourselfie, which in the bio links to a website called "DaddyT45.com" that features a photo of former President Donald Trump holding a gun on its home page.
The couple's 2-year-old daughter Navy and 3-year-old son Memphis, were also pictured wearing shirts that read "Hidin' from Biden" and another photo shows the back of Brittany's shirt while standing next to Memphis.
Insider noted that conservative political commentators Tomi Lahren and Candace Owens both commented on Brittany's post, with Lahren writing "Boom!!!" and Owens commenting, "I love you wayyyy too much," along with a series of laughing face emojis.
Celebrities including "Real Housewives of Atlanta" star Kim Zolciak-Biermann and country singer RaeLynn, also commented on the pictures with their approval, using a series of heart eyes emojis.
In addition, country star Jon Pardi's wife, Summer Pardi commented her approval with a series of heart eyes emojis.
In a separate Instagram post, Brittany shared a picture of Memphis in the "Hidin' from Biden" shirt and Jason responded, "My boy!"
That comment has over 100 replies to it with many in support as well as liberals coming to vent, with some accusing Aldean of being racist.
As Newsweek reported:
Many praised the family for being "not afraid to speak out" while others said it was unfair their children should wear political messaging at such a young age.
"Take notice that Jason is not wearing the clothing or making any statements," one person observed, prompting a response from the country music star himself.
"Don't kid urself," Jason Aldean replied in a since-deleted comment originally seen by Yahoo News. "I think everybody knows where I stand. Nice try tho!"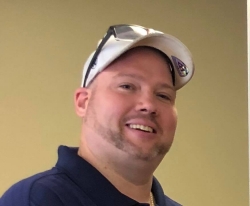 Latest posts by David Caron
(see all)