U.S. House Rep Dan Crenshaw (R-TX) was among 80 House Republicans who voted for a bill that creates a "vaccine database."
Crenshaw now denies, however, that the bill does that after GOP Arizona State Sen Wendy Rogers and others have called him out for his vote in favor of it.
The bill in question is H.R. 550 or the Immunization Infrastructure Modernization Act of 2021.
In the wording of the bill, it says that it "directs the Department of Health and Human Services (HHS) to take actions to improve data sharing and other aspects of immunization information systems."
"These are confidential, population-based databases that maintain a record of vaccine administrations," the bill purports.
What that means, according to the bill, is that the government would spend $400 million on a system it says is "a confidential, population-based, computerized database that records immunization doses administered by any health care provider to persons within the geographic area covered by that database."
As MustReadAlaska.com noted, the database would allow the government to notify people about when their booster shot are due and although the system is described as confidential, confidential in this case means confidential from the public, until of course records are indiscriminately released like has happened with the IRS, Department of Defense, Veterans Administration, or any number of high-profile government leaks and hacks.
Crenshaw previously quote tweeted a tweet showing Australia's oppressive lockdowns and said, "It's 1984 in Australia. Many Americans understandably always assumed places like Australia were also freedom protecting republics. But it's not true, we are unique, and need to keep it that way."
The Columbia Bugle then quote tweeted Crenshaw, chastising him by noting, "You just voted with Democrats to fund a vaccine database."
Rogers quote tweeted The Columbia Bugle and declared, "Dan Crenshaw is the problem."
Earlier, Crenshaw made a video where he discussed the situation and echoed U.S. House Rep Ilhan Omar (D-MN) by calling other Republicans liars.
"Unfortunately, many Republicans you trust are lying to you. They want you to believe they stood strong against a 'new vaccine database.' But they're lying. There's no new database. We just made current databases secure against federal gov't tracking," Crenshaw claimed in a tweet on his government account.
Crenshaw then quote tweeted his tweet onto his campaign page and said, "I'm sick of people lying about this 'new vaccine database' BS. There's no new database."
I'm sick of people lying about this "new vaccine database" BS. There's no new database. Here are the facts: https://t.co/YSIjaSzy7o

— Dan Crenshaw (@DanCrenshawTX) December 6, 2021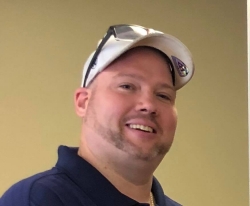 Latest posts by David Caron
(see all)