Virginian Bob Good, who describes himself as a "bright red Biblical and constitutional conservative" defeated sitting Congressman Denver Riggleman in a convention held on Saturday.
He said early Sunday morning after results were announced that he looked forward to going to Congress to "emphasize our Judeo-Christian principles upon which our nation was founded."
Good supporter and Bedford County supervisor, Charla Bansley, said "We have a statesman who's going to go to D.C., and he's going to act not on opinion polls, but on Biblical principle."
Four Democrats look to take him on following a June 23rd primary: Roger Dean Huffstetler, a Charlottesville entrepreneur who lost the Democratic nomination for the same seat two years ago; John Lesinski, a former Rappahannock County supervisor; Claire Russo, a Marine veteran from Albemarle County; and Cameron Webb, director of health policy and equity at the University of Virginia.
Two of the Democratic candidates have attempted to paint Good as an "extremist."
From the Roanoke Times:
"The time I spent serving in Afghanistan made it clear to me how dangerous it is when we let extremists and zealots take control of the government," Russo said. "Bob Good wants to go to Congress to champion his extremist agenda, not working families."
"My campaign is about everyone, which is why I'll fight for every family in the 5th District to have a place in a more prosperous, inclusive future," Huffstetler said. "I look forward to debating Bob and having voters compare our message of inclusion and economic empowerment against his message of division and ideological extremism."
Good believes it is the Democrats who are "radical."
"We look forward to uniting as a party in the general election against a yet-to-be-named Democratic opponent who will undoubtedly embrace the radical socialist agenda of the Democratic Party we're seeing on display in Richmond and seeing on display in Washington," Good said.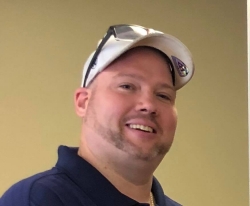 Latest posts by David Caron
(see all)