As former President Donald Trump remains relevant and Elon Musk's Twitter aspirations are becoming more and more distant, "Trump Truths" may become the new normal.
Although the website still has a long way to go, Donald Trump once again is able to speak directly to the people without having to issue "statements" through various channels such as Liz Harrington and others who have been helping him get his message out since being banned from Facebook and Twitter.
One of the possible future president's recent posts to Truth Social talks about U.S. House Rep. Madison Cawthorn (R-NC). Cawthorn has been plagued by "scandals" and hit pieces from left-wing rags who focus on ruining right-wing figures' reputation's whenever possible.
Although Cawthorn certainly has a history, many still support him, including Trump.
"At 18 years of age, Madison Cawthorn, the now 26 year old Congressman from the Great State of North Carolina, went through a life-changing event the likes of which, fortunately, few people will ever have to endure. In just seconds, he lost the use of the lower half of his body, a traumatic experience to say the least. When Madison was first elected to Congress, he did a great job. Recently, he made some foolish mistakes, which I don't believe he'll make again…let's give Madison a second chance!"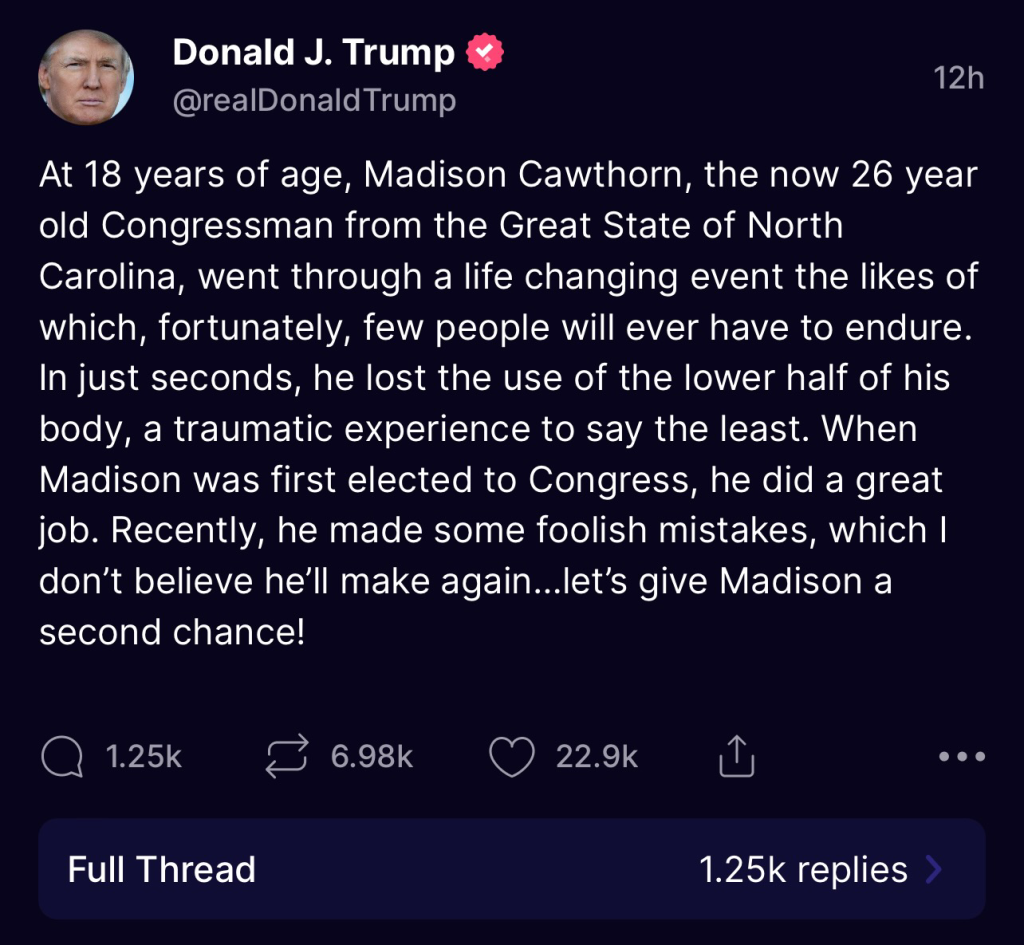 We recently reported about Cawthorn's opponent:
Cawthorn originally beat former Trump Chief of Staff Mark Meadow's pick for congress, Lynda Bennett, in part after she was exposed as saying she was "Never Trump', exclusively by Media Right News.
The election for Cawthorn's primary is tomorrow, as well as many other important Republican primaries, and we will soon know the outcome and possibly the future of America First.
Latest posts by Ian MacDonald
(see all)