Milwaukee County Children's Court judge Brett Blomme was arrested on Tuesday and charged with 7 counts of possessing child pornography.
Blomme, who spent Tuesday night at the Dane County Jail, made his initial appearance in Dane County Circuit Court yesterday afternoon, where a court commissioner set a signature bond, with the conditions Blomme not use social media or file sharing services, or have unsupervised contact with children, except for his own and by 4 p.m. he had been released.
Elected in April 2020 and took the bench Aug. 1, 2020 for Branch 5 of the Milwaukee County Circuit Court, Blomme is the former President and CEO an LGBTQ+ organization, the Cream City Foundation.
The Cream City Foundation also runs the city's drag queen story hour program.
The drag queen story hour program seeks to "capture the imagination and play of the gender fluidity of childhood and gives kids glamorous, positive, and unabashedly queer role models."
"In spaces like this, kids are able to see people who defy rigid gender restrictions and imagine a world where people can present as they wish, where dress up is real," the foundation writes on their website.
In a statement posted to Facebook, the Drag Queen Story Hour MKE Branch denied any involvement with Bloome and sought to distance themselves from the Cream City Foundation.
DQSH Milwaukee has never been run by the Cream City Foundation nor Brett Blomme, neither have either participated in planning, organizing, hosting or performing at any of our events. Brett has never held a title or position within our organization ever. Cream City Foundation has only ever been a fiscal sponsor that allows DQSH Milwaukee to give & receive funds as a non-profit. Aside from financials, they have had no part in DQSH Milwaukee & DQSH National. As the leaders of DQSH Milwaukee & DQSH National we absolutely condemn pedophilia, We are angry and outraged by Brett's actions. Pedophilia has no place in the LGBT community and no place in society as a whole. If you or anyone you know is the victim of child abuse we ask you reach out to the National Child Abuse Hotline, 1-800-422-4453.
The Department of Justice arrested Blomme following an investigation into multiple uploads of child pornography through a Kik messaging application account in October and November 2020.
Wisconsin Assistant Attorney General David Maas, who is prosecuting the case, argued that Blomme should not have any unsupervised contact with children, including the two that he and his husband adopted.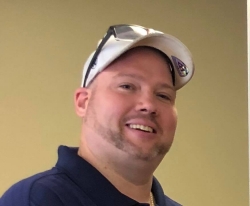 Latest posts by David Caron
(see all)