As we reported yesterday, Elon Musk is apparently deciding whether or not former President and 2024 Presidential candidate Donald Trump would return to Twitter with a poll.
Today, Musk, after touting the record-setting number of votes that the poll has garnered so far, shared that bots and troll armies were attacking the poll and it was "impressive" to watch.
Musk declared in a tweet that the "Trump poll" is "getting" over "1M votes/hour!"
Twitter user "Nomad" told Musk in response, "The leftist bots who (don't) want free speech are starting to attack the poll! It used to be at 80% supporting his accounts reinstatement but now it is at 52%… please stop these bots and save free speech!"
Musk essentially confirmed "Nomad's" suspicions as he replied that "The bot attack is impressive to watch!"
"Bot (and) troll armies might be running out of steam soon. Some interesting lessons to clean up future polls," Musk added.
Musk later declared in a separate tweet that it is "Fascinating to watch (the) Twitter Trump poll!"
It appears that Musk pulled an all-nighter with the Twitter team in order to combat the suggestion that the platform is set to fail without the employees that have been dismissed by the new owner.
Currently, the poll sits at 52.1% to reinstate Trump versus 47.9% not to. The poll didn't have the decimal point originally, so that appears to have been recently added.
The leftist bots who dont want free speech are starting to attack the poll! It used to be at 80% supporting his accounts reinstatement but now it is at 52%… please stop these bots and save free speech!

— Nomad (@Nomad_1x) November 19, 2022
Bot & troll armies might be running out of steam soon. Some interesting lessons to clean up future polls.

— Elon Musk (@elonmusk) November 19, 2022
Fascinating to watch Twitter Trump poll!

— Elon Musk (@elonmusk) November 19, 2022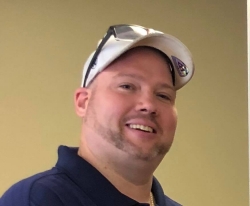 Latest posts by David Caron
(see all)