Elon Musk shared a timeline today that shows he believes the left has pushed him from left of center in 2008 to right of center as of last year by moving so far to the left.
The timeline shows three years, first in 2008, then 2012, and lastly 2021. In the beginning, a stick figure described as him is standing to the left of center with his "fellow liberal" at the end.
In 2008, Musk's stick figure also has a smile on his face, but then in the 2012 version, he starts to frown as the stick figure on the left appears to be running away from him as he asks, "My fellow liberal?" He also had moved closer to the center at that point from 2008 as the line expanded.
In the 2021 version, to the left of Musk is the woke "progressive" who is calling anyone to the right of them a "bigot!"
Musk at that point is further to the right of center than he was in the beginning to the left of center as the line has expanded even more.
The stick figure representing Musk also has an astonished face as the conservative stick figure says, "LOL!"
As one can imagine, the tweet has drawn a lot of attention, including from former NFL athlete Chris Manno who replied, "Elon Musk… The gift that keeps in giving."
"Keep it up brother. You're a beacon of hope man," Manno added.
🤣 Elon Musk… The gift that keeps in giving.

Keep it up brother. You're a beacon of hope man

— Chris Manno (@Mann_O_Steel17) April 28, 2022
Many liberals, however, descended on the tweet to tell Musk how wrong they believe he is. Some shared various graphs that suggest that the right has moved further to the right while the left has stayed relatively the same based on the supposed ideological preferences of Congress.
That, however, seems pretty impossible, given issues that the left has moved further to the left on while the right has actually moved left on many issues, other respondents pointed out.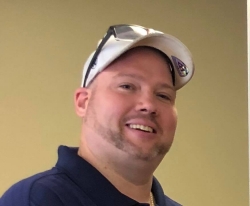 Latest posts by David Caron
(see all)