A federal judge, appointed by former President George W. Bush, has temporarily halted a forced vaccination policy at Western Michigan University,
The university has threatened to remove four student athletes from its women's soccer team for not complying with the school's vaccine mandate for student-athletes, despite each player requesting a religious exemption.
The temporary restraining order was granted yesterday by Judge Paul Maloney and enables all four players to remain on the team's active roster until the matter is resolved in court.
Emily Dahl, Hannah Redoute, Bailey Korhorn, and Morgan Otteson filed the lawsuit on Monday where they said that Western Michigan informed them on Aug. 12 that they could no longer practice or play if they did not get a shot by month's end.
The Great Lakes Justice Center brought a lawsuit on behalf of the four soccer players prior to the university's vaccination deadline, alleging that Western Michigan had violated their religious freedom.
A motion seeking to prevent the players from being dismissed from the team until the case could be heard was also filed.
The players contended that getting the vaccine violated their Christian beliefs but the university chose to deny a religious exemption, leading them to collectively explore their legal options.
Not only did Maloney side with the soccer players on granting their motion, he ruled that they are likely to prevail on claims that Western Michigan's vaccine mandate violates their constitutional religious rights.
A preliminary injunction hearing is scheduled for Sept. 9 and Maloney said that the burden is on Western Michigan to "establish the compelling reason for its actions" and to "explain why the decision to remove the unvaccinated players from intercollegiate competition is narrowly tailored."
From Yahoo! Sports:
"Our clients are grateful that the Court has recognized they have a strong case for a religious exemption from this vaccine requirement," attorney David Kallman said in a GLJC statement. "Our clients are thrilled that they can continue to be part of their soccer team, be with their teammates and compete for WMU at the highest level in a safe manner."
Dahl, Redoute, Korhorn and Otteson have ​​agreed to wear masks in public and to be regularly tested for the virus. Documents that the GLJC presented in court shed light on the players' rationale for insisting that getting vaccinated clashes with their Christian beliefs.
Otteson, an all-conference forward, wrote in her application for a religious exemption that she previously tested positive for COVID-19 but was asymptomatic. As a result, she now believes that God has given her "the strength to naturally fight off any illnesses" and "a natural immunity to fight off infection."
Dahl, a senior defender, and Korhorn, a fifth-year senior forward, also expressed confidence that God will protect them from the virus. Wrote Korhorn: "As a Christian, I trust God with my health, life, body, and soul."
Redoute, a senior forward and midfielder, described herself as "strongly pro-life" and objected to the vaccine as "abortion-tainted." "Everything that happens to me is the Lord's conscience," she wrote, "and he is telling me to not to get the vaccine."
Whereas Western Michigan requires athletes to be vaccinated, its campus-wide policy is not as strict. The university "strongly encourages COVID-19 vaccination for students, faculty and staff" and requires those who aren't vaccinated to be tested regularly.
Western Michigan has said that the purpose of its vaccine mandate for athletes was to minimize the "significant risk" of an outbreak. Athletes who refuse to get the vaccine would not forfeit their scholarships and could continue to pursue their education.
The temporary restraining order granted to Dahl, Korhorn, Otteson and Redoute puts the onus on the university to justify its policy.
Kallman is confident the judge will continue to perceive the vaccine mandate as a violation of his clients' religious beliefs.
"The case law is clear from the Supreme Court on down," he told Yahoo Sports on Monday. "A personal religious belief is just that. It's personal to the person. The government has no right to challenge it. If a person says they have this religious belief, the government has to accept that."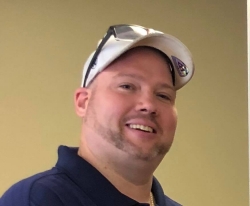 Latest posts by David Caron
(see all)