Washington DC Mayor Muriel Bowser celebrated after "Black Lives Matter" was painted on a street that leads to the White House where protesters have been demonstrating. Next month, it will be 4 years since 5 police officers were killed in an ambush at a "Black Lives Matter" protest.
#BlackLivesMatter pic.twitter.com/OQg6977n5r

— Muriel Bowser #StayHomeDC (@MurielBowser) June 5, 2020
According to her chief of staff, "There was a dispute this week about whose street this is. Mayor Bowser wanted to make it abundantly clear that this is DC's street and to honor demonstrators who (were) peacefully protesting on Monday evening."
While the local DC chapter decried the move, saying it was an "performative distraction from real policy changes." Those policy changes have finally come to light now on what the goal is which they then outlined: "Black Lives Matter means defund the police."
The movement has made a comeback after going mostly dormant for a few years and one of the main reasons that happened was because of that police ambush. Also, there was a lack of goals from the leaders of the movement.
From the July 8th, 2016 article on the shooting by USA Today:
A gunman shot police ambush-style as protesters marched in downtown Dallas late Thursday against the fatal police shootings in Louisiana and Minnesota, Dallas Police Chief David Brown said.
Five law enforcement officials were killed in the assault. Seven other officers and two civilians were wounded.
The attack marks the deadliest attack on law enforcement since Sept. 11, 2001, according to the National Law Enforcement Officers Memorial Fund.
Who was Micah Xavier Johnson?
Johnson, 25, is believed to be the lone gunman in the attack, a law enforcement official told USA TODAY on Friday. He joined the Army Reserve in 2009 and served in Afghanistan for about eight months until July 2014, according to the U.S. Army. He left the Army in April 2015.
Johnson's Facebook account also identified him as Fahed Hassen and as Richard GRIFFIN or Professor Griff, who embraces a "radical form of Afrocentrism," the Dallas Police Department said in a statement. Johnson, as GRIFFIN, authored a book titled A Warrior's Tapestry, police said.
Johnson was killed by a police-controlled remote explosive device about 45 minutes after authorities began trying to negotiate with him, police said. He was wearing heavy body armor and carrying multiple rounds of ammunition during the attack.
Johnson, who lived in Dallas, told officers he wanted to kill white police officers, and said he was not affiliated with any groups, Dallas Police Chief David Brown told reporters Friday morning.
"The suspect said he was upset about Black Lives Matter, he said he was upset about the recent police shootings," Brown said. "The suspect said he was upset at white people. The suspect stated he wanted to kill white people, especially white officers."
Brown said the police force and community were "heartbroken" following the incidents.
"There are no words to describe the atrocity that occurred to our city," he said. "All I know is this must stop. This divisiveness between our police and our citizens."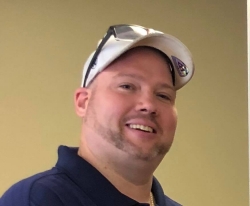 Latest posts by David Caron
(see all)