US Congressional candidate Marjorie Greene retweeted a video released by the GOP House Judiciary today where they said, "It's no 'myth.' House Democrats still won't denounce violent left-wing extremism."
Greene brought up Barack Obama saying during his campaign in 2008, "Get in their face."
Obama 2008: "get in their face" https://t.co/ih5PB98fsJ

— Marjorie Taylor Greene For Congress???????? (@mtgreenee) September 15, 2020
The full quote that then candidate Obama said was, "I need you to go out and talk to your friends and talk to your neighbors. I want you to talk to them whether they are independent or whether they are Republican. I want you to argue with them and get in their face!"
"And if they tell you that, 'Well, we're not sure where he stands on guns.' I want you to say, 'He believes in the Second Amendment.' If they tell you, 'Well, he's going to raise your taxes,' you say, 'No, he's not, he's going lower them.' You are my ambassadors. You guys are the ones who can make the case," he added.
An article from the NY Daily News at the time painted the picture:
Barack Obama sharpened his attacks on John McCain and mocked the Republican's recent calls for reform in two stops in Nevada on Wednesday after days of listening to nervous supporters fret about the Democrat's chances of taking the White House.
Obama later added: "I'm not making this up, you can't make this up. It's like a 'Saturday Night Live' routine."
The feistier, more sarcastic tone came as worried Democrats urged Obama to get tougher and show more passion. Obama has tried to assure donors and voters that he's been schooled by Chicago politics.
"I'm skinny but I'm tough," he says.
In Elko, Obama tried to anticipate his critics and called on the crowd of about 1,500 to sharpen their elbows, too.
Republicans answered Obama's swing in the West with two new radio ads airing in markets in Nevada, Colorado and New Mexico.
The second ad notes McCain's opposition to federal earmarks and criticized Obama and running mate Joe Biden for requesting federal dollars for home state projects.
The policy notes and the taunts to his opponent were warmly received by a crowd estimated at 14,000 by the park's facilities director.
Some in the audience in Elko said they were satisfied with Obama's tone.
"I think he needs to keep doing exactly what he's doing, which is speak softly, show it through," said Paul Barnhart, a retired real estate appraiser. "I think most Americans are pretty fed up and sick and tired of the bickering and the battling back and forth. I am."
Holly Black, a special education teacher in Elko, agreed. "I don't believe in the trash-talking. I believe he is aggressive."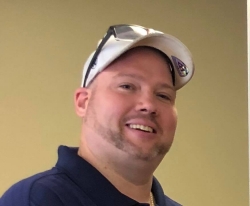 Latest posts by David Caron
(see all)