California's Democratic Governor Gavin Newsom is pulling out all the stops leading up to the recall election set to take place in 10 days.
In a video clip shared today, Newsom accused his GOP opponents of not being "pro-life" due to their opposition to "government welfare" programs.
"They're not pro-life, they're pro-birth… They'll cut pre-natal programs. They'll cut those school nutrition programs," Newsom declared in the clip.
California Gov. @GavinNewsom on pro-life Republicans: "They're not pro-life, they're pro-birth. […] They'll cut pre-natal programs. They'll cut those school nutrition programs." pic.twitter.com/Wdk4vfAMAN

— The Hill (@thehill) September 4, 2021
In the past, one of Newsom's Republican opponents Larry Elder asked, "Is government welfare — as opposed non-government charity — the best way to help the needy and to encourage self-sufficiency?"
A recent Los Angeles Times article referred to it as a "government giveaway," which curiously was the same phrase that Newsom used as well, so it seems he may be getting his cues from the publication.
That article attacked Elder over a dissolved charity that he previously ran, wondering where a remaining balance – $15,000 – went.
According to The Sacramento Bee, Newsom is making abortion rights a central theme in his campaign to hold on to his office after a Texas ban on most abortions took effect this week, arguing Californians' rights could be also be jeopardized if he's replaced as governor by Elder.
Newsom appears to be in good shape to retain the governorship, but as Newsweek noted:
None of Newsom's challengers are polling much above 20 percent. Yet under the California recall election rules, the challenger with the highest number of votes will win if the current governor does not garner more than 50 percent support on the question whether he should remain or be removed.
Conservative talk radio host Larry Elder, a Republican candidate, has emerged as the frontrunner among Newsom's challengers. Elder is backed by about 22.6 percent of California voters, according to a polling average compiled by FiveThirtyEight. If the GOP candidate—or another Republican challenger—manages to win the recall, it would represent a significant upset in a state that is estimated to have twice as many Democratic voters as Republicans.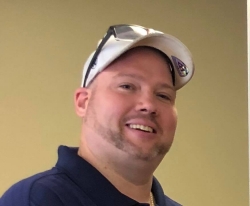 Latest posts by David Caron
(see all)