U.S. House Rep Ilhan Omar (D-MN) mocked U.S. House Rep Ken Buck (R-CO) for his defense of AR-15s in a quote tweet tonight.
The Recount shared a clip of Buck speaking during today's Judiciary Committee hearing on gun control in a tweet.
"An AR-15 is a gun of choice for killing raccoons before they get to our chickens," they quoted Buck as having said.
In the quote tweet, Omar lamented, "Jesus Christ, Republicans will literally say anything to keep the NRA blood money flowing in."
Jesus Christ, Republicans will literally say anything to keep the NRA blood money flowing in. https://t.co/6pbq0BQ2TR

— Ilhan Omar (@IlhanMN) June 3, 2022
Buck also quote tweeted The Recount and said, "Modern Democrats think farmers and ranchers defending their livelihoods is a joke."
Modern Democrats think farmers and ranchers defending their livelihoods is a joke. https://t.co/1jwHOmQOtx

— Rep. Ken Buck (@RepKenBuck) June 2, 2022
When a left-wing Iowa media personality tweeted a meme mocking Buck, he responded in a quote tweet, "Post all the comic book memes you want. This is where your food comes from."
Post all the comic book memes you want. This is where your food comes from. https://t.co/fDOytq1iGU

— Rep. Ken Buck (@RepKenBuck) June 2, 2022
Buck followed that up by pointing out, "On a personal note, I'm always amazed how much more progressives on Twitter know about rural Colorado than I do."
On a personal note, I'm always amazed how much more progressives on Twitter know about rural Colorado than I do.

— Rep. Ken Buck (@RepKenBuck) June 2, 2022
Buck also later declared in a tweet, "Democrats are using the shootings in Buffalo, Texas, and Tulsa to push for more gun control—even though they know this legislation wouldn't have prevented any of these recent tragedies and won't make any of us safer."
Democrats are using the shootings in Buffalo, Texas, and Tulsa to push for more gun control—even though they know this legislation wouldn't have prevented any of these recent tragedies and won't make any of us safer.

— Rep. Ken Buck (@RepKenBuck) June 2, 2022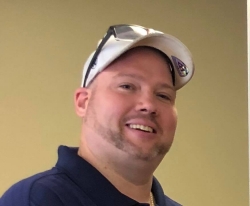 Latest posts by David Caron
(see all)