Former U.S. Sen Barbara Boxer, a California Democrat who was succeed in 2017 by now Vice President Kamala Harris, detailed how she was assaulted and robbed near her home in Oakland, California in a tweet yesterday.
In the tweet, Boxer reported that she "was assaulted in the Jack London Square neighborhood of Oakland. The assailant pushed her in the back, stole her cell phone and jumped in a waiting car."
Boxer added in the tweet that "She is thankful that she was not seriously injured."
One Twitter user responded to Boxer with a tweet that she made last August complaining that crime was rampant in "Trump's America" and that the way to solve it was to vote for then candidate Joe Biden. "This aged well," they taunted.
This aged well. pic.twitter.com/WSLfEqGpeP

— JohnC (@JCaryPhoto) July 27, 2021
The Jack London Square neighborhood is "Where water meets pavement" according to a website established to promote the area, which overlooks the San Francisco Bay.
An article released yesterday from the local ABC 7 News was titled, "What is law enforcement doing to crack down on violent crime in Oakland? Police chief, DA explain."
The article begins by describing "The brazen daylight robbery of an elderly Asian man in Oakland's Chinatown earlier this month sparked outrage throughout the Bay Area."
"It was just one of a many violent crimes reported in the Bay Area as crime continues and today, law enforcement in the East Bay is saying 'enough is enough,'" the article continues.
ABC 7 News reporter Phil Matier then wonders, "But does law enforcement have the muscle to stop the surge?"
The article goes on to describe the statistics, which he calls "alarming" where in Oakland alone, police say robberies are up 15% this year over last and car jackings are up a whopping 95% in that same time.
"At the same time police funding is being cut and the money is being redirected to efforts to deal with the what many people say are the underlying causes of crime, like poverty, poor education and job training," Matier noted.
"Oakland Police Chief LeRonne Armstrong said he was putting as many police as the department could muster in into the area," Matier explained, but asked, "but how many cops does the area really need to have an impact?"
Matier then went on to interview Chief Armstrong who stated that in the city, there were already "75 homicides and over 1,500 robberies already and it's only July. We have a problem here."
After Matier noted that criminals who are arrested might be back on the street the next day, he then quoted Alameda County District Attorney Nancy O'Malley, who claimed, "If they're arrested, and they're charged with the crime, they will be in jail unless they can afford bail. Everybody has a right to bail and the California Supreme Court just came down with a ruling that said you can't hold someone in jail, just because they can't afford bail. But the caveat to that policy is that if somebody is a danger to the community, or they're a danger to the victim of crime, that they who is a victim of their crime, the court doesn't have to set a bail. And we're seeing the particular judge who's overseeing these bail hearings, holding people in custody because they are a danger to the community."
O'Malley added her office will file the "maximum charges, including the enhancements for use of a gun, for some, they've been convicted of a felony. It's a high percentage of individuals that are being arrested for crimes involving a gun are already on probation," but in regards to the system, "Well, we were doing what we can do is you know, that California is really focusing on reform and what we are arguing to the state and to our legislators is that you cannot take reform to the place where where the community is in danger, where public safety is impacted."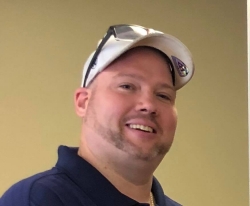 Latest posts by David Caron
(see all)