Former White House press secretary Kayleigh McEnany faced tough questions when she would give her daily briefings and today, she mocked a White House reporter for giving the current press secretary Jen Psaki a softball question.
Breitbart News' Charlie Spiering reported that "A WH reporter asks again about the cat. 'I don't have an update on the cat,' Psaki replies."
McEnany quote tweeted Spiering and quipped, "Hard hitting questions from the White House reporters. Seriously…"
Hard hitting questions from the White House reporters.

Seriously… https://t.co/R503y1l3hQ

— Kayleigh McEnany (@kayleighmcenany) June 3, 2021
Last November, after being elected, CBS' "Sunday Morning" show had some "breaking news" when they reported that the Biden White House would have a cat.
The cat, however, has yet to be brought to the White House, which has led to questions from the press.
At the beginning of March, a White House reporter asked Psaki, "We were promised a White House cat. What happened to that?"
Psaki threw up her hands and responded, "Where's the cat? Today's a good day for the cat. I don't have any update on the cat. We know the cat will break the internet, but I don't have any update on its status."
Another update came at the beginning of last month when Jill Biden told NBC's "The Today Show" that the cat was a female and that "She is waiting in the wings."
Town & Country Magazine reported that the president at the time denied that the cat was his idea and the couple were cagey about when the new pet would arrive.
NBC's Craig Melvin also noted, however, a possibility for conflict between the now-unnamed cat and Major Biden, Biden's younger German Shepard who has had some, well, trouble adjusting to life at the White House.
The First Lady addressed those concerns, noting that Major's training included what sounds like exposure therapy, but for cats and explained that "[The Secret Service] took him into a shelter with cats and he did fine."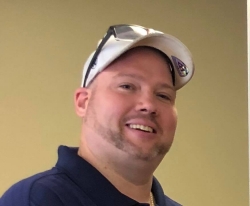 Latest posts by David Caron
(see all)