U.S. House Rep and "The Squad" member Rashida Tlaib (D-MI) was recently caught on camera stating that she was only wearing a mask because there was a Republican tracker present filming her.
Tlaib apparently believed that the camera would be unable to catch what she said or flat out just didn't care because she knows that Democrats will never hold her accountable.
U.S. House Rep Lauren Boebert (R-CO) weighed in on the situation and shared the clip of Tlaib brushing off the mask wearing in a quote tweet of Benny Johnson from TPUSA.
"Rashida Tlaib is as big of a fraud as (Dr. Anthony) Fauci," Boebert declared in the tweet.
.@RashidaTlaib is as big of a fraud as Fauci. https://t.co/be7athksZy

— Rep. Lauren Boebert (@RepBoebert) October 7, 2021
This isn't the first mask flap for Tlaib, as we reported in August that she was caught on camera at a large, maskless indoor party.
The party was reportedly part of a wedding celebration that was taking place in Dearborn, Michigan, which is a county where the Centers for Disease Control and Prevention guidance had called for indoor masking
Boebert chastised Tlaib as well in a tweet where pointed out the apparent double-standard and said, "This video is brought to you by another Squad member who wants to arrest you for not wearing a mask when they tell you to."
"Hypocrites all – the rest likely were mingling with Hollywood's elite at Obama's massive birthday party," Boebert added.
Previously, we reported:
Not only that, but this came on the same day that she told U.S. Sen Rand Paul (R-KY) that he needed to "Start resisting the virus" in a tweet.
GOP candidate for Congress Robby Starbuck said of the buffoonery, "You can't make this stuff up. The same day she partied maskless, she went on twitter to chastise @RandPaul for the crime of telling people to be free and stop listening to mandates. 'Start resisting the virus'… Is that what you were doing dancing in a big crowd."
Tlaib shared a video that Paul recently released where he called on Americans to "resist" mask mandates and she claimed that was "Throwing a tantrum as his state is being swallowed whole by this virus, again."
"People are getting sick and dying. 98 counties in Kentucky have a high incidence rate of COVID-19. He needs to put politics aside, and put people first. Start resisting the virus," Tlaib claimed.
Tlaib also shared a map showing that most of Kentucky was in what the CDC calls a "high" rate of COVID-19 daily incidence.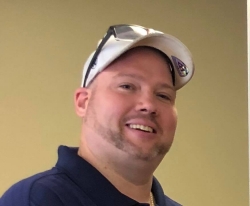 Latest posts by David Caron
(see all)