Liberal actor Joshua Malina weighed in on the Whoopi Goldberg Holocaust comments controversy in a story that was published by Page Six.
Malina, who hosts a pro-Jewish podcast, attempted to essentially downplay Goldberg's comments by asserting that "Jew-hater" Mel Gibson is worse than she is.
"To me, there is a bad person who is a Jew-hater, and then there's Whoopi Goldberg, who misspoke or needed to clarify or educate or discuss," Malina claimed.
Malina then turned to Gibson lamented that Goldberg's "getting a two-week suspension (from 'The View'), and he (Gibson), every time I turn on my computer, he's starring in a new movie."
"Apparently he's potentially going to direct 'Lethal Weapon 5.' Let's keep our focus on the worst of it. I find it appalling," Malina declared.
Malina said of Goldberg's comments, "I didn't hear what Whoopi said and thought, 'That's an anti-Semite. That's someone that doesn't like Jews.' I just thought she was off,"
"My original take was I think there's a lot of nuance in discussing, 'What is race?' I know I swabbed my cheek, sent it to a company and came back 89 percent Ashkenazi Jew, so I know it's not just a religion, but I know you can convert to Judaism. I'm married to a woman who did convert," Malina explained.
On the day that Goldberg was suspended, prior to her suspension, Malina made a joke about the whole thing on Facebook.
"BREAKING: Whoopi Goldberg insists that The Amazing Race isn't actually a race; it's more about man's inhumanity to man," Malina mocked.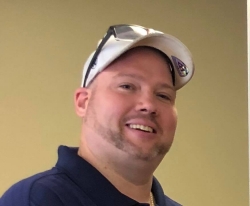 Latest posts by David Caron
(see all)