Joe Biden did his best to play off reported comments made by Elon Musk yesterday in an email to Tesla executives.
Musk has a "super bad feeling" about the economy according to the report and the email was titled "pause all hiring worldwide."
Inside the reported email, Musk states his plan to reduce jobs by 10%, which was mentioned in the question posed to Biden.
The reporter also mentioned JPMorgan CEO Jamie Dimon, who made "similar" remarks earlier this week where he predicted that a "hurricane is right out there down the road coming our way," although Biden didn't appear to address his remarks.
"Well, let me tell you, while Elon Musk is talking about that, Ford is increasing their investment, overwhelmingly," Biden began in response.
Biden then reached into his jacket and pulled out some apparent notes as he continued, "I think Ford is increasing their investment in building new electric vehicles, 6,000 new employees, union employees I might add in the midwest."
"The former Chrysler corporation, Stellantis, they are also making investments in electric vehicles," Biden noted.
Biden then pivoted to the company Intel which he said is "adding 20,000 new jobs making computer chips."
"So, uh you know, lots of luck on his trip to the moon, I don't know" Biden added in regards to Musk.
Musk replied to a clip of Biden's dig that was tweeted by Forbes and told him, "Thanks, Mr. President" while sharing an April 2021 NASA press release that announced, "NASA Picks SpaceX to Land Next Americans on Moon."
Thanks Mr President!https://t.co/dCcTQLsJTp

— Elon Musk (@elonmusk) June 3, 2022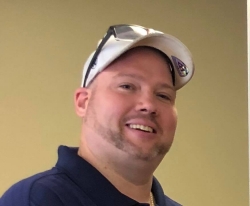 Latest posts by David Caron
(see all)