After an election integrity audit in Maricopa County, Arizona, the city tried to send a $2.8 million bill to Senate President Karen Fann. Meanwhile, the Senate has been trying to get further access to more, including routers connected to the 2020 election.
There seems to be some confusion with the latest news. Some are reporting that the $2.8 million charges are dropped, but that the routers will not be handed over.
Others are saying that's just a technicality, and that the Republican-led senate is getting access to the routers, just not the physical routers being handed over. There seems to be an ongoing discussion on this, but State Senator Wendy Rogers is calling it a victory.
"Summary: We won. They dropped their $2.8 meaningless claim for the machine replacement. We get the routers and spunk logs. Cyber Ninjas has full access. Maricopa caved.
President Trump told us to get the routers. We are getting them. Appropriate:"
Summary: We won. They dropped their $2.8 meaningless claim for the machine replacement. We get the routers and spunk logs. Cyber Ninjas has full access. Maricopa caved.

— Wendy Rogers (@WendyRogersAZ) September 18, 2021
President Trump told us to get the routers. We are getting them. Appropriate: https://t.co/NLob7cArQw

— Wendy Rogers (@WendyRogersAZ) September 18, 2021
This report says "routers will not be handed over":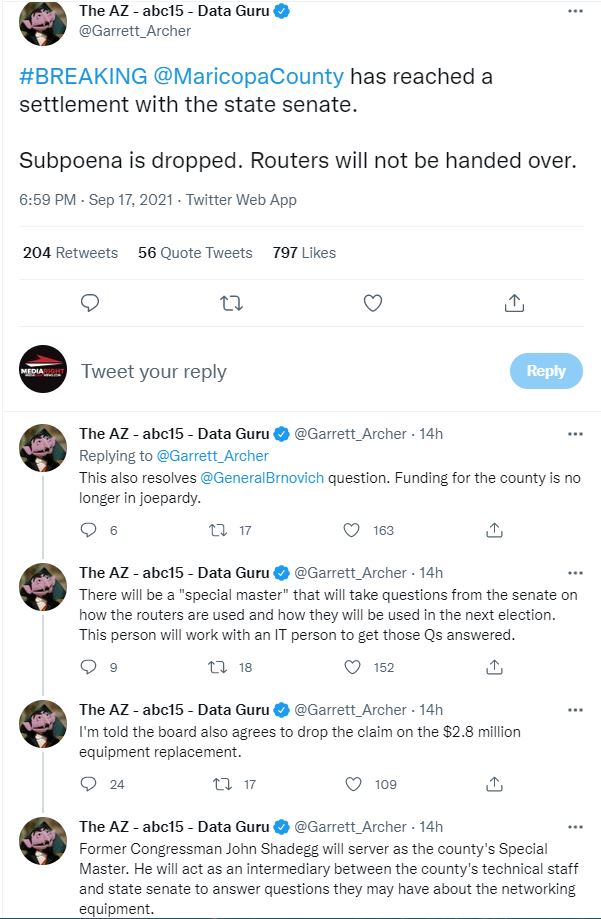 GOP Chairwoman Kelli Ward:
"I'm not convinced that we should trust Maricopa County – every time the force of law is dropped, they slither out of what they agreed to do. And now we have a political "special master" involved (whatever that means). But let's see what they actually give the AZ Senate."
I'm not convinced that we should trust Maricopa County – every time the force of law is dropped, they slither out of what they agreed to do. And now we have a political "special master" involved (whatever that means). But let's see what they actually give the AZ Senate. pic.twitter.com/YsEogqyzPA

— Dr. Kelli Ward 🇺🇸 (@kelliwardaz) September 18, 2021
Senate President Karen Fann:
"HUGE win for the Az Senate today! Maricopa settlement gives us all the data needed to complete the review of the routers & splunk log to the most comprehensive election audit in history. We got everything we need including the routers and more"
HUGE win for the Az Senate today! Maricopa settlement gives us all the data needed to complete the review of the routers & splunk log to the most comprehensive election audit in history. We got everything we need including the routers and more https://t.co/M0pCKCHXjr

— Karen Fann (@FannKfann) September 18, 2021
Here's where we are.@FannKfann struck a deal with the @maricopacounty BOS where the @AZSenateGOP gets access to everything we need, through a Liaison that both sides are comfortable with.@RepJohnShadegg Is an ideal middle man here, because he has worked with both sides.

— Columnated Ruins (@DominofromAZ) September 18, 2021
FOR IMMEDIATE RELEASE: Maricopa County agrees to settle with Arizona State Senate#AZSenate @FannKfann pic.twitter.com/QNW1QAaUbw

— AZSenateRepublicans (@AZSenateGOP) September 18, 2021
State Senator Kelly Townsend tweeted:
This is a conflict of interest. There should not have been a 3rd party at all, they should have complied with our subpoena. #ArizonaAudit pic.twitter.com/mkqEMZE2cA

— Senator Kelly Townsend (@AZKellyT) September 18, 2021
There seems to be conflicting information, but with a $2.8 million charge dropped, access to routers granted, and more, it seems like at least a majority win for the Senate. We will continue to monitor the situation to see how things pan out. Rogers tweeted out more recently:
All you need to know:

✅ routers being handed over
✅ splunk logs being handed over
✅ dropped claim against the senate

— Wendy Rogers (@WendyRogersAZ) September 18, 2021
A lot of tap dancing going on for people who are handing over routers and splunk logs.

— Wendy Rogers (@WendyRogersAZ) September 18, 2021
Why aren't @newsmax and @FoxNews covering the audits?

— Wendy Rogers (@WendyRogersAZ) September 18, 2021
ALL CRIMINAL ACTIVITY WILL BE REFERRED TO THE ATTORNEY GENERAL

— Wendy Rogers (@WendyRogersAZ) September 18, 2021
History had been made. #Maricopa #audits #scantheballots #kinematicartifactdetection #cyberninjas #jovanhuttonpulitzer pic.twitter.com/WQYLH7NIQK

— JovanHuttonPulitzer™ #JovanHuttonPulitzer (@JovanHPulitzer) September 18, 2021
All of the people bashing Arizona need to relax. We have this on lockdown. Worry about your own state. Don't second guess the audit champs who are getting the audit done.

— Wendy Rogers (@WendyRogersAZ) September 18, 2021
Latest posts by Ian MacDonald
(see all)