U.S. House Rep Marjorie Taylor Greene (R-GA) spoke out yesterday against Senate Minority Leader Mitch McConnell (R-KY) about the deal in the senate that will lead to the raising of the debt ceiling.
Today, after the senate passed the bill, Greene put it bluntly that she believes McConnell, "Won't be leader in 2023."
Juanita Broaddrick seconded Greene in a quote tweet and declared, "We know, we know" followed by four clapping hands emojis.
We know, we know👏🏻👏🏻👏🏻👏🏻 https://t.co/Ow6lZ1ctKW

— Juanita Broaddrick (@atensnut) October 8, 2021
Greene's words were very similar to what former President Donald Trump said last night when speaking to Fox News' Sean Hannity.
Trump explained, "The Republican Senate needs new leadership, I've been saying it for a long time. Mitch is not the guy. He's not the right guy. He's not doing the job."
McConnell had not only given the Democrats a "lifeline" but also handed the Democrats more "time now to figure out what to do," according to Trump.
"They were in a real big bind. They wouldn't have been able to do anything. He had the weapon, and he was unable to use it," Trump lamented.
In a statement yesterday, Trump blasted McConnell for "folding to the Democrats, again" because "He's got all of the cards with the debt ceiling, it's time to play the hand. Don't let them destroy our Country!"
Yesterday, we reported:
U.S. House Rep Marjorie Taylor Greene (R-GA) spoke out against the agreement in a tweet today and directed her ire at McConnell.
In a quote tweet only 5 minutes after McConnell had made his tweet, Greene told him, "Stop helping Democrats destroy our country by making deals with Schumer."
"Don't raise the debt ceiling giving them more time to pass the Infrastructure and the Budget, which is really socialism and the Green New Deal. Stop selling out!" Greene urged.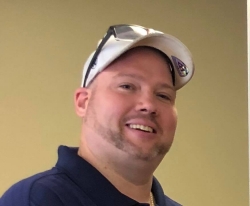 Latest posts by David Caron
(see all)