Earlier this week, it was announced that U.S. House Rep Marjorie Taylor Greene (R-GA) would be among the featured speakers at a "Back the Blue Rally" in Columbus, Ohio.
Columbus has been a hot spot recently after a police officer shot a 16-year-old girl who was attempting to stab another teenage girl.
Greene issued a statement today, however, that the event was postponed due to concerns about BLM/Antifa violence and a refusal for proper security to be provided to separate the two groups.
In the statement, Greene blamed the Capitol Square Review and Advisory Board for making the recommendation that there be no fencing to separate the rally goers and counter protesters.
"I will not be used as a tool for the left or the right or the media or anyone or blamed for violence caused by radical domestic terrorists BLM/Antifa in a CLEAR SET UP," Greene insisted in the statement.
Greene continued in the statement, "We will NOT play into the hands of the enemies within, who want to provoke violence, hurt innocent people, and then use it in political spin to tear me down, our great police down, and the freedom loving people of this country down."
"The American people's rights have been violated long enough and I refuse to be silent about this. We are a nation of laws. We are a free people. We will not be intimidated into submission and silence by wokeness, schemes, and never ending violence," Greene added.
Brian Glenn, a correspondent with RSBN, responded to Greene's statement and said that he was, "Not happy at all about this," as his network was set to live stream the rally.
A link on their website that was set up to stream the rally now gives a "404 page not found" error.
Greene quote tweeted Glenn and asked, "Me either. Apparently, the legal counsel who advised all former security protocols in regards to security fencing be thrown out, wanted BLM/Antifa violent terrorists in the rally so innocent people would be attacked. And all the violence caught on camera. Why the set up?"
Not happy at all about this.

— Brian Glenn (@brianglenntv) April 30, 2021
Me either.
Apparently, the legal counsel who advised all former security protocols in regards to security fencing be thrown out, wanted BLM/Antifa violent terrorists in the rally so innocent people would be attacked.
And all the violence caught on camera.
Why the set up? https://t.co/JBqi4wFvys

— Marjorie Taylor Greene 🇺🇸 (@mtgreenee) April 30, 2021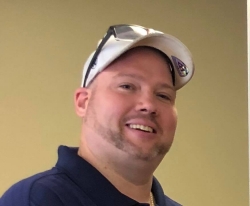 Latest posts by David Caron
(see all)