Yesterday, it was reported that the Capitol's attending physician, Rear Adm. Brian P. Monahan, told senior Republican staff in a conference call that he doesn't have the equipment to do either rapid or widespread testing of the 100 senators who return to work Monday, per two sources familiar with the call.
This, despite a Forbes article that said Abbott Laboratories has been shipping out 50,000 ID NOW tests per day since April 1 and has been delivering on that commitment. Abbott's ID NOW COVID-19 test can deliver positive results in as little as five minutes and negative results in 13 minutes.
Monahan was appointed by former President Obama in 2009. In 2015 former Republican Congressman Steve LaTourette said Capitol doctors failed to deal with his diagnosis and followup. He passed away in 2016 and it appears the suit was never filed.
At the beginning of the outbreak, Monahan predicted that there would be 70 million-150 million U.S. Coronavirus cases. Monahan told staffers that about 80% of people who contract coronavirus will ultimately be fine, one of the sources said.
Today, Senate Majority Leader Mitch McConnell said he was "grateful to dedicated professionals including Attending Physician Dr. Brian Monahan & his office" who all worked hard to develop solutions for Senate's safe return.
McConnell said he was grateful to dedicated professionals including Attending Physician Dr. Brian Monahan & his office, Senate Rules Cmte & offices of Sergeant at Arms, Architect of the Capitol & Sec of the Senate who all worked hard to develop solutions for Senate's safe return.

— Craig Caplan (@CraigCaplan) May 1, 2020
He released "guidance from the Attending Physician of Congress ahead of Senate's return Monday for floor votes during COVID-19 pandemic: "The United States Senate can smartly and safely begin resuming our critical in-person work on Monday."
McConnell on the new guidance from the Attending Physician of Congress ahead of Senate's return Monday for floor votes during COVID-19 pandemic: "The United States Senate can smartly and safely begin resuming our critical in-person work on Monday." pic.twitter.com/mUMJWZkMc0

— Craig Caplan (@CraigCaplan) May 1, 2020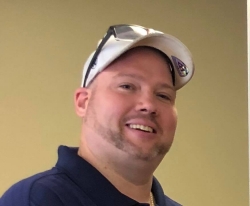 Latest posts by David Caron
(see all)