City leaders today put a curfew in place until further notice in Elizabeth City, NC which states that states everyone must be off the streets between the hours of 8 pm and 6 am.
But just after it began, demonstrators lingered on in the streets despite the curfew going into effect. Video shared shows police in riot gear lining the streets, threatening to enforce the curfew against the Black Lives Matter activists.
The curfew comes after six nights of people protesting a fatal shooting by Pasquotank County Deputies last week while officers were trying to serve a warrant.
#Protestors approaching police with their hands up #ElizabethCity #AndrewBrownJr pic.twitter.com/EfZl08LWQ1

— Giuli Frendak (@JuliewithaGonTV) April 28, 2021
Another video shared by a left-wing Twitter user shows a resident yelling at the police and asking why they are there as there hasn't been any rioting, looting, or destruction of police cars like there has in other cities where BLM protests have taken place.
Those references, however, show the need for a heavy police presence to ensure those things don't happen. Regardless, it is clear that the activists don't intend to obey the curfew and it is unclear how else the police will get it enforced.
A resident next to the protest comes out to give their words to the riot police

Happening now in #ElizabethCity , North Carolina#ElizabethCityNC #AndrewBrown #AndrewBrownJr pic.twitter.com/82sW9jnvuu

— Durham Operations🏴 (@canadarcho) April 28, 2021
On Friday, we reported:
On Wednesday morning, a man was killed in a deputy-involved shooting while sheriff's deputies served a search warrant in the North Carolina city of Elizabeth City, officials with the Pasquotank County Sheriff's Office said.
Black Lives Matter activists have been protesting in the city for the last three days, urging the city to release the bodycam video from the incident.
This evening, WAVY 10's Brett Hall reported that the protesters occupied the intersection of Water St. and Elizabeth St, which closed off a bridge to Camden Co. for nearly a half hour.
Hall later showed pictures of backed up traffic and said, "Activist told me one of the reasons they chose to stop here is that on Friday night so many people use the bridge to get to the Outer Banks. Camden Co. Sheriff depts tell me traffic headed west is backed up several miles now."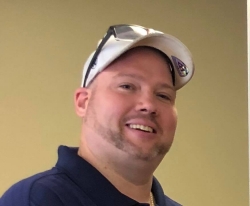 Latest posts by David Caron
(see all)