After Florida GOP Gov. Ron DeSantis hadn't made any public appearances in two weeks, left-wing conspiracy theorists began to speculate about why that could be and that there could perhaps be something amiss.
Last night, however, DeSantis appeared in person at a New Year's Eve "Let us worship" event in Miami at Miami Baptist Church.
Not only that but DeSantis was presented with the "Defender of Freedom" award by the movement's leader, Sean Feucht.
In a tweet, where he shared a picture of himself on stage along with Feucht and his wife Casey, "Tonight, I was honored to receive the Defender of Freedom award at 'Let Us Worship' in Miami.
"In Florida, we will protect the right to worship and won't let anyone shut you down," DeSantis declared.
Some were still not convinced, including Twitter user "DJ Van," who wondered, "Anyone check to see if this was even a real event or I'd it took place today??"
Anyone check to see if this was even a real event or I'd it took place today??

— DJ Van (@DJVanPrice1) January 1, 2022
The event was very real and occurred last night, in fact, as his scheduled appearance was reported by WFLA 8 News and also was broadcast live on Facebook.
As we previously reported, even U.S. House Rep Alexandria Ocasio-Cortez (D-NY) even bought into the conspiracy theory:
"Hasn't Gov. DeSantis been inexplicably missing for like 2 weeks? If he's around, I would be happy to say hello. His social media team seems to have been posting old photos for weeks. In the meantime, perhaps I could help with local organizing. Folks are quite receptive here :)," Ocasio-Cortez claimed.
Ocasio-Cortez then suggested in a reply, "I'd also be happy to share some notes from @GovKathyHochul's work in NY since he seems to be in need of tips!"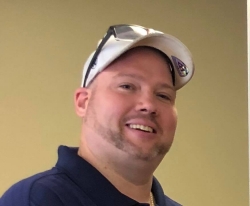 Latest posts by David Caron
(see all)