It was reported yesterday that Fox News anchor Leland Vittert, a fixture of the network's weekend lineup for years, has officially left the network after a long layoff.
Fox News confirmed his departure when reached for comment, saying "We have mutually and amicably parted ways with Leland Vittert."
Vittert had been with Fox News since 2010, and Fox has declined to explain further why he has left the network after a decade.
Former President Donald Trump once tweeted that Vittert belonged at CNN instead of Fox News and Vittert was critical after the 2020 election of Trump's election fraud claims.
Trump said in the 2019 tweet, "Were @FoxNews weekend anchors, @ArthelNeville and @LelandVittert, trained by CNN prior to their ratings collapse? In any event, that's where they should be working, along with their lowest rated anchor, Shepard Smith!"
A post-2020 election interview with Trump's communications director Erin Perrine also descended into a shouting match.
In one of his last appearances, Vittert was interviewed by Shannon Bream about his experience covering the Jan. 6 Trump rally and protest at the U.S. Capitol.
Vittert claimed that he "was confronted by protesters demanding to know if I was a patriot, in their words, who supported the president. At the time, they had no idea I was a journalist. They would come up to people in the street, all over the city, and ask if you were a patriot and then demand some type of oath of allegiance to the president. And it wasn't just me."
In May 2020, Vittert was on the ground at the White House when another riot broke out and an angry mob of Black Lives Matter protesters chased him out of the area, destroyed Fox News cameras, took his microphone, and implemented physical force.
Rumors had circulated for months regarding the professional fate of Vittert, since he disappeared from the air at Fox News in January.
Vittert's Twitter account has been dormant since Jan. 13, when he congratulated Kristin Fisher for being named a White House correspondent by Fox News.
Multiple Twitter users ask in the comments where he has been at various times throughout the last couple of months and it appears, their inquiries are now answered.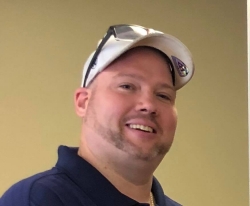 Latest posts by David Caron
(see all)