Since a Black Lives Matter mural was painted on the street in front of Trump Tower in New York City a little over a week ago, it has already been defaced once. It was defaced again today as a group of black and LGBT Trump supporters splattered blue paint on it.
THIS ???? #NYC Begins Painting 'Black Lives Matter' Mural in Front of #Trump Tower:

WATCH LIVE – Towleroad #Gay News https://t.co/ADGBIOFvIv via @tlrd #blacklivesmatter #newyork #trumptower #equality #race #racism #nohate pic.twitter.com/a9FQrNWIfz

— Paul D – Mr Gay Wales – official (@paul_stumpy) July 9, 2020
To whoever vandalized our mural on 5th Avenue: nice try. @NYC_DOT has already fixed it.

The #BlackLivesMatter movement is more than words, and it can't be undone. pic.twitter.com/nlYTALCWxJ

— Mayor Bill de Blasio (@NYCMayor) July 13, 2020
Group of Trump supporters splattered blue paint onto BLM mural outside Trump Tower, saying "All Lives Matter" and "Blue Lives Matter". Four people were arrested.

[email protected] for licensing pic.twitter.com/DVw441PicV

— @SCOOTERCASTER (FNTV) (@ScooterCasterNY) July 17, 2020
Black Lives Matter Mural has been splashed by blue paint pic.twitter.com/2an6WLNXsI

— @SCOOTERCASTER (FNTV) (@ScooterCasterNY) July 17, 2020
The video shows police arriving on the scene as well as a shouting match between the paint splashers and some bystanders. According to the journalist who took the video, four people were arrested.
Clearly they are patriots first and foremost and have had it with the anti-police sentiment, putting country before the race narrative. NYC Mayor Bill de Blasio shared a video today on the anniversary of the death of Eric Garner, who resisted arrest, calling it a "tragedy."
Six years ago today a tragedy shook our city to its core.

Eric Garner's death should never have happened — but he did not die in vain. pic.twitter.com/7lmwKkW8hd

— Mayor Bill de Blasio (@NYCMayor) July 17, 2020
From ABC7:
Video shows 2 women taken into custody in handcuffs shortly after it happened.
Police aren't saying yet if they are facing charges or if they were the individuals who vandalized the mural.
The first incident happened back on Monday. Police were still looking for one person in that case who walked up to mural and dumped red paint over the letter V in "Lives," which splattered across the mural as cars drove over it.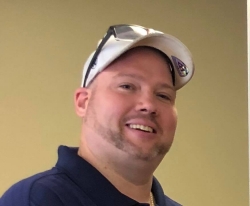 Latest posts by David Caron
(see all)