At the daily press briefing today, ABC News reporter Jon Karl once again tried to make himself the center of attention by asking questions that have already been answered. He wanted an assurance that "everybody who needs a ventilator will get a ventilator."
President Trump tried his best to answer the question, even though infectious disease outcomes rarely have exact answers, saying, "we're in great shape," but Karl asked it again and the President responded, "don't be a cutie pie."
.@jonkarl presses Pres. Trump on whether everyone who needs a ventilator will get one. "Look, don't be a cutie pie," Trump responds, claiming "we're in great shape." https://t.co/uxvSisKJ4b pic.twitter.com/6gkjO9JtQG

— ABC News (@ABC) March 27, 2020
Karl: Are you able to guarantee these states, these hospitals that everybody who needs a ventilator will get a ventilator?
Trump: So here's what I'll tell you, I think we're in really good shape. This is a pandemic, the likes of which we've never seen before. I think we're in great shape. I think that #1 we've distributed, ventilators are big deal, we've distributed vast numbers of ventilators and we're prepared to do this now. I think we are in great shape. I hope that's the case. I hope that we're going to have leftovers so that we can help other people, other countries.
Karl: Everybody who needs one will get a ventilator?
Trump: Look, don't be a cutie pie, okay? You know, everyone who needs one.
Karl: It's a fundamental question.
Trump: Nobody's ever done what we've done. Nobody's done anything like what we've been able to do and everything I took over was a mess. It was a broken country in so many ways, in so many ways other than this. We had a bad testing system, we had a bad stockpile system, we had nothing in the stockpile system. So I wouldn't tell me what you're, you know, like being a wise guy.
These press briefings have been tense before, with just last week, NBC News' Peter Alexander badgering the President until Trump questioned his "sensationalism".
The number of cases and who will need what is extremely difficult to predict from a virus that can infect and not show symptoms and then be transmitted. Italy announced that despite being on lockdown since early March, their number of deaths continues to stay fairly steady on a daily basis.
South Korea is the only country to be fairly successful, but it required a significant invasion of privacy, as we covered previously. The number of news cases still has remained steady there as well though, with 104 yesterday.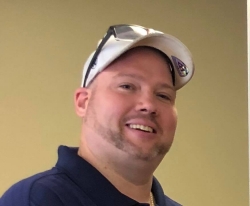 Latest posts by David Caron
(see all)