Yesterday, U.S. House Rep Beth Van Duyne (R-TX) introduced a resolution "urging the U.S. House of Representatives Sergeant at Arms, Capitol Police, and Department of Justice" to assist Texas authorities in returning the more than 50 Texas House members who broke quorum back to the Texas Capitol.
In a news release, Van Duyne explained, "I am in the minority party in Congress, but you don't abandon your constituents, hold up our democracy, and go on a fundraising tour because you don't get your way."
"These officials were elected to serve their communities by representing them in Austin, not charter a jet to Washington to join the Nancy Pelosi and Kamala Harris temper tantrum demanding states like Texas federalize our election process," Van Duyne continued.
Van Duyne emphasized, "If they won't go back home to do the work for the people, I'm proud to do my part to send them back."
It's extremely unlikely that federal officials would get involved in returning Texas lawmakers to Austin, however, the Dallas Morning News explained.
One of the Democrats who fled to Texas, State Rep. Michelle Beckley, announced yesterday, while in Washington D.C., that she plans to challenge Van Duyne for her seat.
In the video, which was shot in her hotel room, Beckley claimed that "Beth Van Duyne can walk away from her duty to defend democracy, but not me. LBJ said, 'we do not choose to be the guardians of the gate, but there is not one else but us.'"
"The very fabric of our nation is under attack, and I'm running for Congress to save it," Beckley stated in a tweet which included the video.
The very fabric of our nation is under attack, and I'm running for Congress to save it.

Join us: https://t.co/r6xjeWtAPi pic.twitter.com/Zg5AGB7qdj

— Michelle Beckley (@BeckleyforTX) July 20, 2021
In another video that she tweeted out later, which was shot on the streets of Washington D.C., Beckley decried the resolution from Van Duyne.
"Just hours after our campaign launched, @bethvanduyne announced that she wants the Capitol Police to arrest me for standing up for Texans' right to vote. Are you kidding me? I'm proud to defend our constitutional rights, and I'll keep up that fight in the U.S. House," Beckley complained.
Just hours after our campaign launched, @bethvanduyne announced that she wants the Capitol Police to arrest me for standing up for Texans' right to vote.

Are you kidding me?

I'm proud to defend our constitutional rights, and I'll keep up that fight in the U.S. House. #TX24 pic.twitter.com/OET6xCodTa

— Michelle Beckley (@BeckleyforTX) July 20, 2021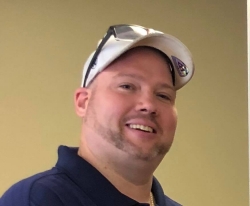 Latest posts by David Caron
(see all)