Last Monday, felony warrants were issued for several civic leaders in Portsmouth, VA by police chief Angela Greene for their involvement in the destruction of Confederate monument that ended in a life-threatening injury.
Portsmouth Vice-Mayor Lisa Lucas-Burke, who is the daughter of one of the accused, State Senator L Louise Lucas, was part of a group that held a press conference two days later calling for Greene to immediately resign from her position or be fired.
Yesterday morning, Lucas-Burke was served a summons after a Portsmouth resident filed a criminal complaint against her for violating a section of city code which says that members of city council cannot direct or request the removal of an employee who works for the city manager, which the police chief does.
The summons, a class 3 misdemeanor, is not punishable by jail time but does bring a $500 fine if convicted and Lucas-Burke would have to forfeit her title as vice mayor and her seat on City Council.
From News 3:
Last week, News 3 asked Lucas-Burke what power the city council had to fire the chief if the city manager didn't do it. "We could fire [the city manager]," Lucas-Burke responded, but she noted Dr. Lydia Pettis Patton is scheduled to retire at the end of the year. "Day one of the new city manager – if we don't fire Angela Greene by then, that's the first order of business that I want the city manager to take care of."
From Wavy 10:
"I don't understand their purpose behind [the charges], I was only expressing my opinion to a group of citizens who were out there for a rally," Lucas-Burke told 10 On Your Side.
Portsmouth resident Thomas Dubois told 10 On Your Side he wants city officials to be held accountable for their actions.
"In a perfect world I'd like her just to admit what she did was wrong and accept the consequences and everybody can move on. Hopefully, that will happen," he said.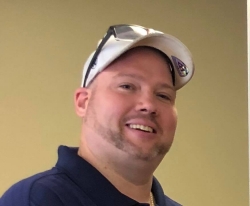 Latest posts by David Caron
(see all)