Joe Biden took a tumble today during a Delaware bicycle ride with his wife Jill. He reportedly told those that were gathered who witnessed the fall, "I'm good."
The Daily Mail's Nikki Schwab shared a video of the incident in a tweet where she said, "Here's footage I took of President @JoeBiden falling over on his bike this morning in Rehoboth."
Schwab also shared a statement from a White House official:
"As the President said, his foot got caught on the pedal while dismounting and he is fine."
"No medical attention is needed."
"The President looks forward to spending the rest of the day with his family."
"No medical attention is needed," a @WhiteHouse official tells the pool. pic.twitter.com/bvgaxSqsL3

— Nikki Schwab (@NikkiSchwab) June 18, 2022
According to the Associated Press, Joe and Jill Biden were wrapping up a morning ride when he decided to pedal over to a crowd of well-wishers standing by the bike trail.
Joe Biden, they noted was wearing a helmet, and fell when he tried to dismount, apparently falling on his right side and rolling onto his back before being helped up.
He was able to gather himself and spent several minutes chatting with people who had gathered to watch him bike.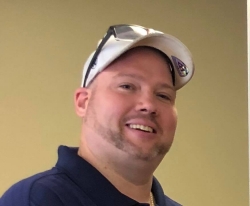 Latest posts by David Caron
(see all)