In an SNL-esque viral video, Joe Biden and Kamala Harris were mocked by a Saudi TV station.
The video begins with the duo walking out in front of a podium and American flags as "Biden" waves to the camera and points to different people.
"Biden" then began to wander off the screen as "Harris" ran to bring him back, guiding him to the podium.
"Thank you very much, today we're going to talk about the crisis in Spain," "Biden" began before "Harris" leaned over to tell him that it's not Spain.
"Biden" then corrects himself to "Africa" and then "Russia" as "Harris" continued to whisper in his ear.
While then delivering a message to Putin, who he needed "Harris" to remind him of the Russian president's name, "Biden" fell asleep.
After being awakened, "Biden" then shifted to "China" which prompted "Harris" to remind him that he was talking about Russia.
"Harris" then apparently told "Biden" to wrap it up, which he did but not before falling asleep again, which caused "Harris" to drag him away.
One Twitter user responded to the video by claiming, "The Saudis can write better jokes in the English than any writer on SNL has in the past 15 years."
The Saudis can write better jokes in the English than any writer on SNL has in the past 15 years.

— Guardian Auron (@UnsentAuron) April 12, 2022
Another Twitter user lamented, "THIS is what we've become in the worlds eyes. Thank you to the 81 million that "voted" for him, you happy now????"
THIS is what we've become in the worlds eyes. Thank you to the 81 million that "voted" for him, you happy now????

— Fir Na Tine (@zacharyreilly5) April 12, 2022
Twitter user Chrissy Stalions said that she believes the video is "Inaccurate…Kamala doesn't know what's going on either."
Inaccurate…Kamala doesn't know what's going on either. 😳

— Chrissy Stalions (@italianstalions) April 12, 2022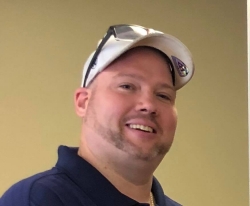 Latest posts by David Caron
(see all)