A 70-year-old man, William Foreman, has been charged with felony property damage after pulling down a Robert E. Lee monument in Roanoke, which broke it into "pieces."
Foreman claimed in an interview that he "was touched by God to do something. I just had a vision, and it came to me." He has lived in Roanoke his whole life and said he didn't want to see a day of unrest come to the city he loves.
The day before he had wanted to take it down "with just a nylon rope" and a "Highlander" but "the police came" he said. Roanoke City Police say they saw Foreman trying to take the statue down, so they asked him to leave the area.
He apparently didn't believe that his initial plan would have been successful so he "went and got chains, and doubled the rope, and got a U-Haul trailer and went down that night and took it down."
The city had scheduled a public hearing in August to hear input from the community to take the monument down and they still intend to hold it.
Foreman said he "wanted to prevent an incident that's going to, I believe happen, I call it, the day of action, when they actually take it down or leave it up, and I believe that there's going to be both sides there with big opinions and a lot of pressure."
The damaged monument is now sitting in storage and another man, Liniel Gregory Jr, has taken legal action in an attempt to prevent the permanent removal of it.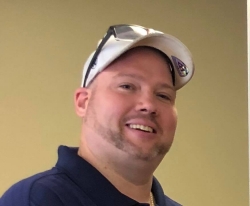 Latest posts by David Caron
(see all)