Former Democrat gubernatorial candidate Andrew Gillum was charged today with 21 felonies for alleged fraud in his failed 2018 campaign against Ron DeSantis.
Gillum turned himself to law enforcement prior to the indictments being handed down and claimed he is innocent, calling the charges "political."
According to Fox News, Gillum is accused of acting in concert with associate Sharon Lettman-Hicks, who was also charged, to solicit funds using false representations and promises. 
A Justice Department press release said that "The Indictment further alleges the defendants used third parties to divert a portion of those funds to a company owned by Lettman-Hicks, who then fraudulently provided the funds, disguised as payroll payments, to Gillum for his personal use."
Although the Justice Department did not go into details of the allegations, they did say the alleged scheme went on from 2016 to 2019.
The charges are based on campaign contributions that Gillum and Lettman-Hicks, allegedly solicited from undercover FBI agents, according to a local report from the Tallahassee Democrat.
In 2020, Gillum was found in a Miami hotel with a male escort who had seemingly overdosed on crystal meth.
Gillum was surrounded by vomit in the Miami hotel room after police responded to calls about a suspected drug overdose.
In the interview where he said that he had "given no consent" for a photo of him to be released and that he had to "get over shame" of not that he did "bad," but that he is "bad."
Tim Young weighed in on the news in a tweet where he wondered, "Sure, Andrew Gillum has been indicted on 21 counts of campaign contribution fraud… but is that really worse than passing out in your own puke at a gay meth orgy?"
"Democrats only run the best people for office…" Young added.
Sure, Andrew Gillum has been indicted on 21 counts of campaign contribution fraud… but is that really worse than passing out in your own puke at a gay meth orgy?

Democrats only run the best people for office…

— Tim Young (@TimRunsHisMouth) June 22, 2022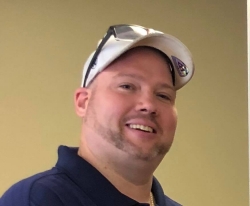 Latest posts by David Caron
(see all)